Palace Confirms Both Charlotte And George Will Be In Meghan And Harry's Bridal Party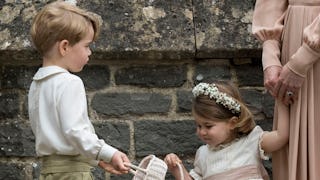 Image via UK Press Pool/UK Press via Getty Images
Meghan and Harry's bridal party is made up of 10 kids, including Princess Charlotte and Prince George
In not exactly surprising but still extremely squeal-worthy news, it's been confirmed by Kensington Palace that Princess Charlotte and Prince George will be among the crew of 10 tiny bridesmaids and pageboys for Prince Harry and Meghan Markle's wedding this Saturday.
I'm far more excited about this than is probably normal.
The Palace tweeted the happy news this morning that Prince Harry's nephew and niece would be involved in the bridal party along with several other little ones close to the couple.
Along with Charlotte and George, the group will include: Prince Harry's three-year-old goddaughter Florence van Cutsem, Markle's goddaughters Remi and Rylan Litt, ages six and seven, her friends Jessica and Ben Mulroney's three kids, Ivy, Brian, and John (Ivy is four, Brian and John are seven), Harry's two-year-old goddaughter Zalie Warren, and his six-year-old godson Jasper Dyer.
That's a whole lot of adorable kiddos headed our way in precious baby bridesmaid and pageboy outfits. I'd bet all of my currently available cash (like $4) that there will be more incredible scenes like this from auntie Pippa's wedding last year:
Flower girl basket-licking, yes please.
Some amazing Kate Middleton Tense Mom faces.
I would not mess with that face, TBH. She nails it.
And maybe even a little royal kid nose-picking.
It was pretty much the cutest shit-show ever, and the chances of a repeat are high with this group of 10 kids under age seven. Luckily for the Duchess, new baby Louis will reportedly not be in attendance, so hopefully that means she has a chance to take in the ceremony in relative peace. Also hoping someone else is on bridal party wrangling duty as Kate's done enough. Let the woman rest.
As royal expert Victoria Murphy pointed out, it's really sweet to see a completely even split between children close to both Markle and Harry, as most of William and Kate's bridal party was made up of kids close to the Prince's family, not Middleton's.
Of course, it may just be that Kate didn't have many tiny ones in her family to put in a painfully cute wedding outfit and William had a bunch. Regardless, it's so great to see Markle's family heartily represented along with kids close to the royals.
Only three more days until we get to see the posse of cute babies and the royal bride herself. AKA, not soon enough.
This article was originally published on