Meghan McCain Is Leaving 'The View' And The Internet Has Thoughts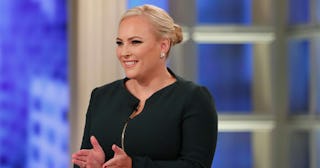 Lou Rocco/ABC
Meghan McCain announces she'll leave The View at the end of the month
After four seasons co-hosting The View, Meghan McCain is getting ready to move on. She announced during Thursday's show that this season will be her last, and she'll tape her final show at the end of the month. "I'm just going to rip the band-aid off," she said as she shared the news, adding that it wasn't an easy decision.
"Covid has changed the world for all of us and it changed… the way I'm looking at life, the way I'm living my life, the way I want my life to look," she explained. She detailed how when The View vacated its studio at the beginning of the pandemic, she left her New York City home for Washington, D.C., where she had grown up splitting her time thanks to her father, the late Republican senator John McCain (whose name Meghan invokes so frequently it's become something of a running gag on Twitter). She would end up giving birth to daughter Liberty there, and she now says she doesn't want to leave the support system she's found there as a new mom.
"This show is one of the hands-down, greatest, most exhilarating, wonderful privileges of my entire life, and I have had so many wonderful experiences in my life and this is definitely one of the top," she said, calling her co-hosts the most talented women in television. It was a warm tribute to colleagues that McCain famously clashed with at times as the main conservative voice on a show that often discussed heated political and cultural issues. McCain gave a joking nod to those arguments: "If you guys want to fight a little bit more, we've got four more weeks."
And who knows what kind of controversies McCain herself might wade into in that time frame — her tenure on the show has given us gaffes on diversity, vaccine access, gun control, and probably a dozen other things that would make one's head explode if you were forced to watch her entire run. But as co-host Joy Behar so generously told McCain on the heels of her announcement, "We're on a show where we stick our necks out, we take the blowback, we take a lot of hits on this show. We stick by our points of view, you have done that brilliantly for four years."
McCain ended her announcement with a jab at the media and the way the show is talked about in the press. "We are covered with deep misogyny and sexism by the media. If five men were doing what we do every day, I really do believe we'd have a Pulitzer Prize at this point. It's always reduced to really reductive coverage, and I implore the media to do better."
McCain hasn't shared what her next act will be, but she seemed to hint at future plans on Twitter, where she quoted a Tweet from GOP Senator Lindsey Graham. He said he believed McCain's "best days lie ahead as a conservative commentator and thought-leader among her generation. " Perhaps she'll follow in her father's footsteps someday?
For now, McCain's only concrete plans seem to be enjoying baby Liberty — but it's probably a safe bet that she'll be back on our TV screens and back in the spotlight in some way before too long.