Meghan Trainor Is Learning To Love Her Body Again After Having A Baby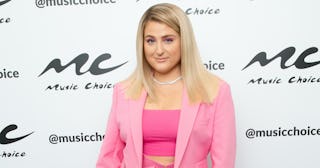 Noam Galai/Getty Images
The pop star opened up about feeling "unsexy" after giving birth to her son
Singer Meghan Trainor is opening up about something that will feel all too familiar to moms everywhere: learning to love the changes to her body after having her first child. Trainor and hubby Daryl Sabara welcomed baby boy Riley back in February, and she said feeling like herself again has been a whole process.
"I started to feel unsexy immediately. Even with my husband, the love of my life, who worships the ground I step on, who loves my body — I was like, 'I'm not feeling it, man,'" Trainor said in an interview with People. "It took me a couple of weeks and therapy sessions to be like, how do I get back in the mindset of: 'My husband loves me, and I'm hot, and everything's okay?'"
"I'm covered in scars and stretch marks in new places I didn't know stretch marks could be. There's things that aren't going to go away ever, and I have to learn to love that," she told the magazine. Same girl, same.
It's totally on brand for Trainor to be open about something so personal and vulnerable. The crux of her 2014 hit single "All About That Bass" was body positivity, but that doesn't mean it's been an easy journey in an unforgiving industry. "It was a song for myself about my body insecurities. I was already at a tough place with my body, especially being out in front of all those people and having them judge me. A lot of people in the beginning of my career would say stuff to me in person like, 'Well, you're much skinnier than I thought you'd be,' or just weird backhanded comments," the singer explained to the magazine. "So I've had a very weird relationship with my body for a lot of years, especially because I grew up chubby."
Body image aside, however, Trainor said her main focus these days is simply being healthy and a good role model for her son. "I want to run and keep up with my kid. I want to be able to put on a bathing suit and run out there and not be in my head about it," she said — something that she wouldn't let herself do as a high school kid lacking the confidence of a successful superstar wife and mother.
Trainor told People that everything she's experienced over the last few years will certainly be reflected in her music": "My lyrics have gotten better because I've gone through more things: having a baby, having a C-section, watching my body stretch and come back."