Kids Boo Melania Trump During 'Be Best' Speech In Baltimore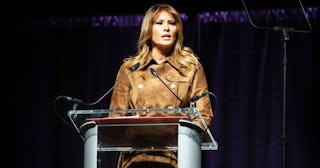 NICHOLAS KAMM/Getty
Melania Trump is booed on and offstage at a "Be Best" event about the opioid crisis at a Baltimore school
Back when First Lady Melania Trump launched her "Be Best" campaign to advocate against cyberbullying and opioid use, the first lady was met with snickers, mostly over the name of the program and also the blatant hypocrisy that she's attempting to curb in children the very thing her husband excels in (i.e. bullying). But those snickers turned into actual boos when she visited a crowd of teens in Baltimore, Maryland on Tuesday, November 26.
As Melania walked onstage at the B'More Youth Summit on Opioid Awareness at the University of Maryland, Baltimore County, she was met with loud boos from the crowd of mostly middle and high school students.
Melania spoke for about five minutes on the tragedy of opioid addiction as kids chattered throughout.
"Promoting education and awareness on these issues will always be one of my top priorities," Melania told the crowd. "I am in this fight with you and I am fighting for you. I encourage you, if you are struggling with addiction right now, reach out for support — whether it's a teacher, parent, friend, grandparent, coach or pastor, talk to an adult in your life that you trust. It is never too late to ask for help."
After her speech, the kids cheered and booed her off the stage.
CNN Reporter Kate Bennet who covers the FLOTUS said that "in my years covering her, this was the first booing of [the first lady] by a crowd at one of her solo events." Bennet also said the booing lasted a full minute when she walked onto the stage.
It's hardly a surprise given her husband's relationship with the city of Baltimore. Back in July, Donald Trump went on a racist tirade against Rep. Elijah Cummings, who represented a large portion of Baltimore, calling his district "dangerous," "the Worst in the USA," "disgusting, rat and rodent infested mess," and a "dangerous & filthy place." Trump concluded his explosive tweet storm against Baltimore by stating that "no human being would want to live there."
The Baltimore Sun swiftly responded to Trump's remarks in a scathing op-ed that said, in part, that it's "better to have some vermin living in your neighborhood than to be one."
After Melania's appearance at the event in Baltimore, most of Twitter was extremely nonplussed by her less-than-warm welcome.
Although this is Melania's first time being booed at a solo event, Trump was recently booed at a MLB World Series game and a UFC match in New York City and his son Don Jr. was booed at his book signing event at UCLA, though his hecklers — strangely — came from the right-wing contingent of the audience.