The Three Words That Flipped My World Upside Down
by Katie Michaud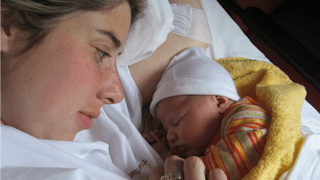 ANDREA GONZÁLEZ I JORDI PUIG / Getty
Three words that flipped my world upside down "You have cancer."
On Tuesday, October 24, 2017, I went to the dermatologist to have what I thought was a wart removed from my arm for cosmetic reasons. At this time, I was 37 weeks pregnant with my second baby. I went to the appointment on my lunch break — they told me it would be a 20-minute procedure. I figure they'd freeze off the wart and I'd move along with my day. The doctor looked at the "wart" on my arm and said it didn't appear to be a wart, but that she'd remove it and have it sent to the lab to be tested. I kind of laughed inside thinking, "It's a wart, lady!" The last thing the doctor said to me before I left the office was "Two weeks! You'll hear from us in two weeks."
Two days later — Thursday October 26, 2017 — I received a call from an unknown number which I quickly ignored. The voicemail notification popped up so I grabbed my phone to listen. "Katie, this is Dr. Kuohung, I would like for you to come into the office as soon as possible so that we can discuss the biopsy results."
I froze. My heart sank. Numbness shot throughout my entire body. I quickly became lightheaded and it was hard to breathe. This was bad; she said two weeks, but it's been two days. I quickly picked up the phone and demanded to talk to the doctor. I told her that I am on my way in, but she needs to tell me what's wrong.
"Your biopsy results came back and the tumor we removed from your arm was melanoma." My life flashed before my eyes.
Melanoma? That's cancer. I have cancer. I am 37 weeks pregnant. I am only 32 years old. I have a 2.5 year old at home. I have a husband. My mom. My sister. My brother. I need my family and they need me. I can't die. It's scary how quickly your brain jumps into overdrive rushing these horrible, dark thoughts through your head.
I could barely get the words out to my supervisor, but I quickly left my office and ran over to the doctor's office. I called my husband what felt like 100 times — I needed him to be there with me. I was shaking and sweating. I was hot and cold at the same time. My brain tingled with fear. I got into the office and demanded to talk to the doctor. They finally called me in. She attempted to explain to me the results. I looked down at my near-term belly and feared for myself and the innocent little baby growing inside my body. I laid back in the chair and had to rip my shirt off because I felt like it was suffocating me. I am dying, the only thought running through my head.
Finally, my husband called back and told me he was on his way. The doctor explained to my husband over the phone what was happening (I couldn't take in anything she was saying). The tumor was cancerous. She has melanoma. It's stage 3. It's thick. I could barely get my words out, but I needed her to tell me what the best case scenario was — I needed hope.
I must have asked her 50 times if I was going to die. She had tears in her eyes and kept hugging me. In short, she explained that we currently have half of the picture with these biopsy results. We know that my tumor has melanoma, that it is thick. The thickness classifies it into one stage. She explained that the other part of the "staging" was to have what is called a Sentinel Lymph Node Biopsy done to determine if it has spread to my lymph nodes. This will give us the full story. She also explained that they would have to do a wide local excision — a larger, deeper removal of the skin around the tumor site to be sure that they remove any additional skin that may have been affected by the cancer. The doctor examined my entire body and felt all of my lymph nodes — nothing concerning.
I went home and sobbed with fear and sadness. It felt like a bad dream. Later, when my husband got home with my toddler I cried when I saw her. I pictured her without me, without her mom who she was so closely attached to. I hugged her so tightly, swallowing back tears so that she wouldn't be concerned. She needed me; would I be here for her? I Googled the pathology results, melanoma, the prognosis — nothing good.
My mom drove up from Connecticut for a few hours. It's funny how badly you still need a hug and the reassurance from your mother even thirty-two years later. She kept my toddler and me distracted, and helped the evening pass. As soon as she left, I felt the fear and darkness come back — she fought it away while she was here, but I now needed to step up and be strong for myself and my family.
My husband, with the help of his amazing colleagues, was able to get me an appointment at Dana Farber Cancer Institute the following Friday, November 3rd. The week between hearing the news and my appointment at Dana Farber was the longest week of my life. I Googled, like I knew I shouldn't, and it only scared me even more. Do. Not. Google. Numerous nights I sobbed myself to sleep convinced that I was going to die — that my body was consumed by this.
The week slowly passed, and finally I had my appointment at Dana Farber. I was meeting with the surgical oncologist and an oncologist later on in the day. The surgeon explained melanoma and the next steps I had to take. Again, I think I heard 5 words he said. My appointment was on a Friday and I would be 39 weeks the following Tuesday. He said that he suggested I be induced at 39 weeks — four days from that day. My heart sank. For them to say I needed to have this surgery ASAP and that I had to be induced petrified me.
I called my OBGYN who said that they agreed, and that I'd be induced the following Tuesday if the hospital had availability. I have heard nothing but horror stories about being induced, so I was nervous. I have cancer, I will have a baby in four days — my mind could barely process it all.
Fast-forward to Monday, November 6th, induction day. South Shore Hospital was nothing but good to me, and was actually able to fit me in on Monday night for my induction so I wouldn't have to risk it and wait until Tuesday. The induction started at 10 PM and I had my beautiful baby the following day at 3:13 P.M. He was healthy, beautiful, and I immediately was in love with him. Such beauty and light in the one of the darkest times of my life. He and my daughter pushed me to be strong — I had to be strong for them.
Seven days after the birth of my son, I made my way into Boston for surgery. The Lymph Node biopsy is done to check for cancer in the sentinel lymph node (the first lymph node the cancer is likely to spread to from the tumor) during surgery. A radioactive substance (blue dye) was injected near the tumor — it was painful and burned. The substance or dye flows through the lymph ducts to the lymph nodes, the first lymph node to receive the substance or dye is removed. They marked my armpit where the images identified my sentinel lymph node. I was then moved to prep for surgery, this was so overwhelming and scary. I have never been under anesthesia before, never had surgery before, never even broken a bone. The surgeon would then take a large, deep part of the skin surrounding my arm — he warned me that my arm would be deformed due to the size of the removal.
Two hours later I woke up from anesthesia. I had a 10 CM gash on the back of my arm, 2 CM deep into my muscle. My armpit was cut open and four of my lymph nodes were removed. The physician assistant told me I couldn't lift more than 10 pounds (my newborn was 8 pounds, my toddler nearly 30). She then explained that I would be due back at Dana Farber the week after Thanksgiving for the results and to have my stitches removed. The recovery from the surgery was better than expected, but still uncomfortable and limiting. I had to explain to my daughter that I couldn't pick her up and put her into bed. She was cooperative and very concerned about " mommy's boo-boo" on my arm.
The support, prayers, love, positivity, and generosity from my friends and family (and even complete strangers) over the next couple weeks was unbelievable. My friends had food delivered, another friend took my toddler on several occasions, my mom stayed almost a week, my sister covered the following week. I'm not one to ask for help, but at this point I needed it — I couldn't afford to say no.
Seventeen days later, I arrived at Dana Farber with my husband and three-week-old. My palms were sweating, I couldn't sit still, my mind was racing. My name was finally called and we were ushered to the room. I'm not sure I have ever felt more vulnerable and scared. The doctor walked in and immediately said "Well, everything was negative" and the physician assistant added, "This is all good news."
I sighed with relief and immediately felt the weight of the world lifted off of my shoulders. I couldn't believe it. The stitches were removed and we were on our way. I didn't cry until I got into the car— that is when it all hit me: I'm going to be OK! I can stop worrying, focus on my two beautiful children and family, and move on.
I will now have an ongoing relationship with Dana Farber for the next three to five years with periodic checkups, along with frequent visits with my dermatologist. I have a battle wound on my arm that will forever remind me not to take my life and health for granted.
I wanted to share this story with everyone to remind everyone to take a minute to appreciate life, your health, your family, and for each breath you take. It's scary how quickly life can change. Melanoma gave me a new outlook on life. I'm thankful for each day that I wake up and am able to spend with my children, husband, family and friends. I was 100% one of those people who thought that these kind of things just do not happen to me.
I remember the surgeon asking me if I used tanning booths in the past: "How many times? 50?"
Me: " I'm not sure"
Him: " Over 100?"
Yes, I definitely tanned over 100 times in a tanning bed. I urge everyone to be smart about the sun. Yes, we all love bronzed skin, but the possible damage it's really doing that you can't see is scary. If you see something on your body that doesn't look right, is new, is changing — go get it checked… do not put this off.