Body Positive Activist Posts Pics With Boyfriend, Trolls Say She Doesn't 'Deserve' Him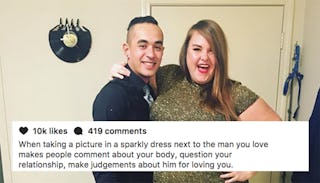 Image via Instagram
Trolls won't stop Melissa Gibson from being proud to share her love
There is never a justifiable reason for body-shaming anyone, ever, but that doesn't stop Instagram trolls from doing what they do. When body positive activist Melissa Gibson shared a photo of her with her boyfriend on New Year's Eve, strangers on the internet (everyone's favorite group of party-poopers) decided to tell her she didn't "deserve" him — because he's thin.
Comments on Gibson's photo ranged from concern-trolling to commenting on their different body types.
Some comments stated her boyfriend "must have a fetish" and others just didn't seem to understand the pairing.
Luckily, Gibson wasn't having any of that nonsense. A few days later, she posted a response to the trolls on her Instagram page.
"When taking a picture in a sparkly dress next to the man you love makes people comment about your body, question your relationship, make judgements about him for loving you," Gibson captioned the post. "Our relationship is political. Even though we both know how natural and right it feels. And if the world won't just let us be, we will keep fighting for our love, for our space, for our right to be seen, accepted without question, and celebrated."
Gibson tells Scary Mommy she wishes to emphasize that she and her boyfriend are totally normal. "There are couples that look like us all over the world who are madly in love with each other and attracted to each other," she says. I've been beyond blown away by the positive response of people who are happy to be able to celebrate their so called mismatched relationships along with us and recognize that they are not alone."
https://www.instagram.com/p/BcgR1Usj9ob/?taken-by=yourstruelymelly
While it's mind-boggling to think that a photo of two incredibly happy-looking people, who are in love, would bother people so much — that's the reality of the society we live in.
https://www.instagram.com/p/BdivMuSDjOw/?taken-by=yourstruelymelly
"When privileged people base their value on attraction and relationships, it results in the plethora of relationships that look like mine being erased and delegitimized," Gibson points out.
Just because society tells us being "thin" is synonymous with being attractive, that is simply not the reality for many people. "We are exactly what each other wants, and guess what, our bodies are a part of that," Gibson writes. "It's not a abnormal or a fetish. It's simply natural."
https://www.instagram.com/p/BcR12rTji0P/?taken-by=yourstruelymelly
Aren't we tired of defining a person's worth by the size of their body? Can't we just say 'to hell with that' at this point? Well, Gibson is. She has a positive, confident outlook on the new year and isn't here for trolls and their games.
"2018 is the year for Love that is not defined by weight, age, ability, genitals, gender, sexuality," she concludes. "Not defined by race or ethnicity or religion. We're having more fun this way anyway."
https://www.instagram.com/p/BdZELtrDVSj/?taken-by=yourstruelymelly
This article was originally published on