Melissa McCarthy As Ursula In The Live-Action 'The Little Mermaid'? Yes Please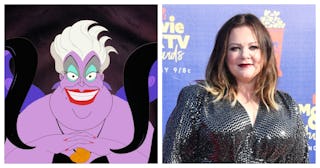 Image via IMDB/Frazer Harrison/Getty
Raise your hand if you're excited about a remake of 'The Little Mermaid'
Disney is on a roll with the live-action remakes lately and they're not going to stop anytime soon. Next up is a live-action version of The Little Mermaid, the 1989 classic with Ariel, Prince Eric, and — of course — Ursula the sea witch. The latest casting news will make you want to sign over your own voice and everything you own just to see it unfold.
Variety reports that Melissa McCarthy is in negotiations to play Ursula. The Ursula. The one and only sea-witch with her own pet eels, creepy garden of shrunken mermaids and mermen, and more binding contracts than an actual lawyer's office.
While the "talks" and negotiations are early, the buzz about the movie is big. Disney and the production team hope to create a contemporary version of the story while not straying too far from the original.
https://www.instagram.com/p/BzRG-PPAIqC/
Iconic director Rob Marshall, who recently directed Mary Poppins Returns, will be directing the remake. The new version will include beloved songs from the original (which, come on, it better — that's an award-winning, legendary soundtrack). But there will also be new music created and produced by Alan Menken (a favorite composer of Disney) and the one, the only Lin-Manuel Miranda.
For the last few years, Disney has been churning out non-stop live-action hits like Cinderella, The Jungle Book, Beauty and the Beast, Aladdin, and The Lion King — which hits theaters later this summer on July 19.
The star-studded voice cast of The Lion King includes (*angel choir sounds*) Beyoncé, Donald Glover, Billy Eichner, James Earl Jones, John Oliver, and Seth Rogen.
People on social media were, understandably, extremely excited but also conflicted about the choice to cast McCarthy, with some people stanning for Lizzo, Titus Burgess, and others.
https://twitter.com/jetpack/status/1144740291527761920
https://twitter.com/jetpack/status/1144756484322025472
It'll be interesting to see how Disney adapts this particular movie — The Lion King and The Jungle Book are strictly CGI while the rest are strictly live-action humans. With The Little Mermaid being full of, well, mermaids and sea creatures (full humans and half), perhaps it'll be a combo of both?
It'll also be the first time Melissa McCarthy strays from the hilarious comedies she's been cranking out for years, which we all love no matter how off-the-wall the plots are. And we're all more than ready to hear "Poor Unfortunate Souls" immediately, thanks.
This article was originally published on