In Response To #MeToo, Men Are Sharing #HowIWillChange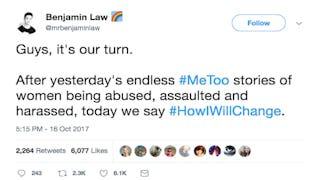 Image via Twitter
#HowIWillChange shows men taking responsibility for their contribution to our current culture
For the past few days, the #MeToo social media campaign has brought forth stories from hundreds of thousands of women about being sexually harassed, assaulted, and coerced. The campaign has brought to light how deeply ubiquitous this matter really is for all of us, beyond the dozens of victims of Harvey Weinstein's lecherous abuse in Hollywood.
One male Twitter user was inspired by the campaign to create a hashtag of his own for men to use: #HowIWillChange.
The onus of sexual assault always manages to fall squarely on the victims themselves. "Why didn't you report it?" and "Why are you speaking out now?" are questions phrased in such a way that they relieve the perpetrating men of all responsibility. It's a completely fucked up way of responding to a survivor of sexual assault. The #MeToo campaign did seem to hit home with some men, however, evidenced by #HowIWillChange.
Television writer Benjamin Law started the hashtag earlier this week, and it's since garnered thousands of responses. He listed a variety of ways men can support women: donating to a women's shelter, reporting known abusers, and recognizing yourself as complicit when you don't speak out against the latter.
Other men quickly joined in and pledged to step up and change themselves.
Men like director Kevin Smith, who was one of the first men in Hollywood to take action against the rampant sexual abuse in his industry, are also stepping up to the plate. Recently announced he'd be donating any profit he makes from his own Weinstein-produced films to help advance the careers of women in film.
While we have a long way to go when it comes to men adequately stepping up and taking responsibility for their own actions or complicity, it feels good to see many coming out of the shadows and being bold and withstanding in support.
This article was originally published on