If I Could Do It All Over Again, I Wouldn't Have Kids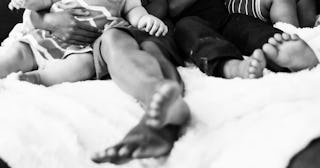 Brodie Vissers/Burst
If I could do it all over again, I wouldn't have kids. Please don't confuse that sentence with the statement "I don't want my kids." I can't imagine my life without my children. They are everything to me. I love them fiercely and I am a fundamentally better and stronger version of myself because of them. But after being diagnosed with a mental illness so severe that it required time spent in a psychiatric facility, and watching my life (including my marriage) subsequently completely unravel, let's just say, if I knew then what I know now about the burdens of this mental illness (where depression is just the tip of the iceberg), I would have chosen to be childless.
My children are without a doubt the biggest and best blessing I've ever received. They teach me, inspire me, test me, make me laugh, make my heart burst, humble me, motivate me, help me grow, make me want to be a better example, play with me, sing with me, learn with me, talk with me, give me hugs and kisses. They are a beautiful light flickering during my hardest and darkest hours. Basically, they're amazing, and they are the loves of my life.
But my mental illness? This illness that wraps itself around my brain and affects both its chemical reactions and my sanity? I'm realizing more and more that it requires my full attention. And there are days when I simply only have the strength to take care of me.
Custody and living arrangements allow me to take time solely dedicated to my own self-care when I need it, but it doesn't come without a large dose of mom guilt. Am I not seeing them enough? Do they need more of me? Am I doing enough? What if I can't do any more than I'm already doing? Will they understand? Do they know how much I love them? How can I ride the waves of my disorder AND be a good mother, too? Every minute I'm away from them I'm contemplating these things. There is often a battle going on in my mind between taking care of myself and taking care of them. No matter what I choose to do, it's exactly what I needed to do. But it can still feel like I made the wrong choice, no matter what I choose.
I plan on being open and honest with them as they get older about my sickness because mental health shouldn't be something we're afraid to talk about with children. Even at their young ages, they're already aware that I have frequent doctor's appointments. As they get older they may also notice that I have good and bad days — that some days I'll be out of bed, showered, dressed, with good hygiene; and other days I'll be in my pajamas with my hair in complete disarray and I'm basically a mess.
But no matter what I look like or how I'm feeling, if my children need me, they will have me. Because they are the reason I even have the good days at all. Just the sheer fact that my children exist, and love me, and I them, is what gives me the strength to get in the shower and brush my hair. Because my children exist, I automatically have to try to be the best version of myself I can be for them. I have to be healthy. I have to be stable. Because that's what they deserve. And not even my illness will stop me from giving them what they deserve. So, yes, if I could do it all over again, I wouldn't have kids. But thank goodness I do.
We are Scary Mommies, millions of unique women, united by motherhood. We are scary, and we are proud. But Scary Mommies are more than "just" mothers; we are partners (and ex-partners,) daughters, sisters, friends… and we need a space to talk about things other than the kids. So check out our Scary Mommy It's Personal Facebook page. And if your kids are out of diapers and daycare, our Scary Mommy Tweens & Teens Facebook pageis here to help parents survive the tween and teen years (aka, the scariest of them all.)
This article was originally published on