Ring In 2018 By Looking At A Bunch Of Adorable 'Doggos'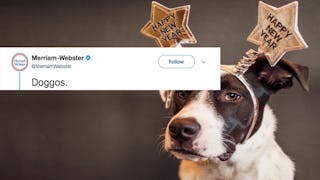 Image via Getty/Twitter
Merriam-Webster is here to honor all the good doggies of Twitter
If you've been sleeping on the Merriam-Webster Twitter account, it's time to wake up. Because the dictionary to end all dictionaries has been pretty consistent in serving up some sassy tea all year — from shading Donald Trump to adding the phrase 'binge-watch' to its archives.
They recently released the word they're "watching" for 2018, and it's such a cute way to start off the new year: doggo.
According to Merriam-Webster, the word doggo "saw a meteoric rise in use in 2017 and continues its upward trajectory, as the nation turns its lonely eyes to dog pictures for comfort and some much-needed encouragement to carry on."
Who could argue with that? BRING US ALL THE GOOD BOYS AND GIRLS IN 2018.
Naturally, puppy-loving tweeters came out of the woodwork to share their enthusiasm for both the word "doggo" (because, come on, who doesn't love it) and their own doggos.
https://twitter.com/jetpack/status/946115875169587208
OMG. TEEF.
https://twitter.com/jetpack/status/946087058883469318
So fearless.
https://twitter.com/jetpack/status/946089045498712064
Sherlock the doggo thinks we are all very suspect.
Merriam-Webster handled the influx of dog mentions like a true pro — they responded to almost each and every single doggo personally.
Being that Merriam-Webster is a dictionary site, they explained more of the origin of doggo.
Merriam-Webster also explained the word's meaning through the decades.
"Doggo has its origins not with good puppers, but with late 19th-century slang," says the webpage dedicated solely to Good Puppers. "To lie doggo was to stay hidden or to keep secret: to fly under the radar."
Well one thing is for sure: we need each and every one of these good boys and girls to fly under the radar no more in the new year.