Meryl Streep's Glorious Golden Globes Speech Inspires Another Trump Twitter Tantrum
by Maria Guido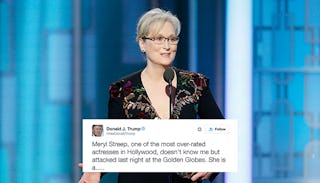 Image via Paul Drinkwater/NBCUniversal via Getty Images
Meryl Streep uses her Golden Globes stage to speak out against the nightmare that is a Trump presidency
Last night during the Golden Globes, the most respected actress in Hollywood took the stage and used her moment in the spotlight to speak the truth about the nightmare that is a Trump presidency. Meryl Streep brought the house down.
Streep was presented with the Cecile B. DeMille Award — an award for "outstanding contributions to the world of entertainment." No one can argue she deserves that. She took the stage and radiated the kind of truth that is so rare to see. Maybe it was her close friend Carrie Fisher dying, maybe it was the plain shock of the last few months and the political nightmare we've all endured, or maybe she's just a badass who's had enough. Her acceptance speech has a little to do with Hollywood, and a lot to do with decency and what we should expect from a leader.
"You, and all of us in this room, really belong to the most vilified segment of American society right now. Think about it: Hollywood, foreigners, and the press," she began her speech."But who are we? What is Hollywood, anyway? It's just a bunch of different places."
"… Hollywood is crawling with outsiders and foreigners, and if you kick 'em all out, you'll have nothing else to watch but football and mixed martial arts, which are not the arts."
Clearly, she's speaking of the xenophobic hate that has surfaced since President-Elect Trump effectively gave permission for all of his followers to show how much they hate the thing about America that makes it so great — its "melting pot." All of the different people and cultures from all over the world who come here following the "American Dream" — a dream that Trump's followers have made clear is only for one segment of the population: Christian, right, and white.
Here is the part of her speech that sent a painful message home:
An actor's only job is to enter the lives of people who are different from us, and let you feel what that feels like, and there were many, many, many powerful performances that did exactly that: breathtaking, compassionate work. But there was one performances this year that stunned me; it sank its hooks in my heart, not because it was good. There was nothing good about it. But it was effective and it did its job—it made its intended audience laugh and show their teeth.
It was that moment when the person asking to sit in the most respected seat in our country imitated a disabled reporter—someone he outranked in privilege, power, and the capacity to fight back. It kind of broke my heart when I saw it, and I still can't get it out of my head because it wasn't in a movie; it was real life. And this instinct to humiliate, when it's modeled by someone in the public platform, by someone powerful, filters down into everybody's life, because it kind of gives permission for other people to do the same thing.
Disrespect invites disrespect, violence incites violence. When the powerful use their position to bully others, we all lose.
The room looked stunned. Some were weeping. Everyone was blown away. Including Trump, who of course took to Twitter to do what he does best: have a public tantrum.
Pathetic, considering we all saw him mock the reporter. There is video footage. No amount of lying will take that away. He can't erase it, and we shouldn't let him.
Twitter did not appreciate Donald coming for Meryl Streep.
Don't come for Meryl, Donald.