#MeToo Founder Organizes National Walkout To Support Christine Blasey Ford
by Cassandra Stone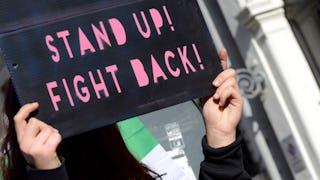 Image via Simona Granati - Corbis/Corbis via Getty Images
Tarana Burke organizes a national walkout in support of Dr. Christine Blasey Ford
"Wear black and walk out." That's the directive straight from Tarana Burke, founder of the #MeToo movement, who is organizing a national walkout for tomorrow, September 24, in support of Dr. Christine Blasey Ford.
Burke took to social media to share the news of the national walkout, occurring tomorrow afternoon at 1 p.m. "Survivors, allies, and organizations will host a nationwide walkout and moment of solidarity with Dr. Christine Blasey Ford."
In the wake of Dr. Ford's allegations against Supreme Court nominee Brett Kavanaugh being made public, her life has altered drastically. Dr. Ford, her husband, and their children have had to move from their home and hire private security due to threats and harassment from fanatical Kavanaugh supporters. According to Dr. Ford's husband, if Kavanaugh is confirmed as a Supreme Court justice, she refuses to live in this country. "She was like, 'I can't deal with this. If he becomes the nominee, then I'm moving to another country. I cannot live in this country if he's in the Supreme Court,'" he recalls.
The national walkout is to demonstrate the overwhelming amount of support fellow #MeToo survivors wish to share with Dr. Ford. "Dr. Blasey Ford has bravely come forward with her story of sexual assault at the hands of Brett Kavanaugh, despite knowing this will come at great cost to her life and her family," the Facebook event says. "Her willingness to testify in the face of relentless bullying, victim-blaming, and unfair Committee process by Republicans is yet another symbol of her courage and her willingness to speak her truth."
Plenty of people are on board for supporting Dr. Ford tomorrow.
So wear your black, walk out of work, walk out of your house — just walk out. At 1 p.m. tomorrow. To show Dr. Ford we're in this together. "She is not alone. Allies want her to know they have her back. If someone can't walk out, they can show their support by posting a video or a picture to their social media."