17 Things You'll Need If You Love Mexican Food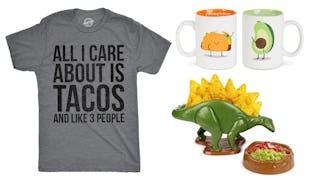 Images via Walmart
There are few things in life that bring me as much joy as Mexican food.
Life can be tough and people aren't always there for you when you need them, but you know what are? Nachos. Not to mention other deliciousness like tacos, burritos, and guacamole. Mexican food has something for everyone and that's why we love it so much.
If you love Mexican food, you're going to need these amazing finds:
This "I Wonder If Tacos Think About Me Too" Tee is perfect for any woman who appreciates the finer things in life, such as delicious tacos.
This NACHOsaurus Nacho Dish Set is NACHO average dish set. It's shaped like a stegosaurus, and you absolutely need it for your next party.
A "Tacos and Tequila" Canvas Bag is perfect for toting things around town. (Actual tacos and tequila sold separately.)
This "My Baby Loves Burritos" Tee is a great gift for anyone who's pregnant or, for people like me, whose "baby bump" is an actual burrito.
Or there is this adorable "Buenos Nachos" Onesie for any of your friends who just had a baby. (Almost makes me want another baby. ALMOST.)
This "My True Love Is Tacos" Print will let everyone know where your heart is.
These Taco Plates come in sets of four and are great for when you have a plate full of delicious Mexican food but you don't want your tacos to fall over or get soggy.
This "Fitness Burrito" Mug is perfect for people like me, whose only real cardio comes from eating burritos.
If you love cooking Mexican food, you absolutely need this Taco Tuesday Apron to make every day a Taco Tuesday.
This TACOsaurus Rex Taco Holder is the perfect friend for your NACHOsaurus set and it fits TWO tacos at a time. Take my money.
Every woman needs this "Feed Me Tacos" Tee to spell it out for the men who think we're complicated.
The Dragons Love Tacos Book is a fun, silly read that kids of all ages will love. (And if you already have this one, don't miss the sequel: Dragons Love Tacos 2.)
This "You Complete Me" Mug Set is the perfect gift for any couple who understands that tacos without guacamole just aren't the same.
This "All I Care About Is Tacos" Tee is the shirt I never knew I always needed.
A Mini Mortar is the perfect addition to any kitchen that loves to make authentic salsa and guacamole, while looking cool AF.
This "After This We're Getting Tacos" Bag is great for a reusable grocery bag, or just to let everyone know what your priorities are.
These "Tacos Make Me Happy" Pajamas are perfect for anyone who literally dreams about tacos, day and night.
Whether you're shopping for yourself, friends, or family — you won't want to let another Mexican food night go by without some of these in your life.
We may earn fees from purchases made via links on this page and affiliated sites. All opinions are our own.
This article was originally published on