This Boy's Entire Kindergarten Class Came To His Adoption Hearing
by Valerie Williams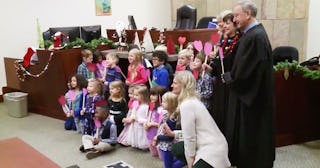 ABC 13 News/Twitter
Michael Clark Jr. wanted his whole family to witness his adoption, and that included every single one of his classmates
The adoption process can be a long and arduous one for kids who just want to be an official part of a family. But along the way, they pick up friends and supporters who become part of their unofficial family and can support them along the journey. That's exactly what happened for Michael Clark Jr., a 5-year-old kindergartener in Michigan who was just adopted by his official family — while his entire unofficial family watched and cheered him on.
Little Michael had his final adoption hearing in Kent County on Thursday, which also happened to be the county's annual Adoption Day, according to NY Daily News. 37 kids got to join their families, officially, for life that day, and Michael was one of them. As he was adopted by his foster parents, Andrea Melvin and Dave Eaton, he had some special guests looking on: His entire kindergarten class who he had invited to attend the proceedings. They all sat in the courtroom, holding paper hearts in their hands, waiting to celebrate this special moment with their friend Michael — and the 36 other kids who were joining families that day.
"There is not a dry eye on Judge Patricia Gardner's courtroom," Kent County officials wrote in a Facebook post celebrating Adoption Day and showing some of the kids who were welcomed into families on Thursday.
The county celebrated its annual Adoption Day by holding hearings for all 37 kids to formally finalize their adoptions. Each family was given a 30-minute hearing, where they could invite family, friends, and supporters to help them celebrate reaching the end of the process and officially gaining their families. But no one had as many supporters in that courtroom as Michael, whose entire class was more than happy to join him and his new parents for the happy occasion.
Days like Kent County's Adoption Day are especially heartwarming, because they represent a very special day that not enough children get to see. Nationally, there are nearly half a million children in foster care at any given time, and just over 100,000 get adopted each year. That means that nearly 80 percent of children in foster care will never be adopted, even though every child deserves a loving — and permanent — family.
Congratulations to Michael, and all the other kids who were adopted this week. If you want to help other kids in foster care, here are some ways.