Michelle Obama's Newest Book Is A Lesson On How To Communicate With Kids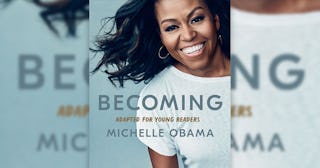 Crown Publishing
A young readers edition of Becoming is on sale today, and it reminds us how much our kids are ready for
When I first heard that a young readers edition of Becoming was being released geared towards children aged 10 and up, I thought, "How?" I'd read Becoming when it was released in 2018. I'd identified with so much that Michelle Obama had been through. The book spoke to me so deeply, when I heard it was being adapted for young readers, I couldn't grasp how.
That was my first mistake.
Picking up the book, "young reader" isn't the first thing that comes to mind. It's 397 pages long. It's sturdy. But as I opened and began to read it, I felt like I was immediately lost in conversation with Michelle. I started reading anecdotes to my kids. My 10-year-old son has watched the Becoming documentary on Netflix so many times he's practically memorized it. When I showed him the book and he saw the words "adapted for young readers," his face lit up.
"My promise to you is to give you my story in all its messy glory—from the time I struggled in front of my kindergarten class, to my first kiss and the insecurities I felt growing up, to the chaos of a campaign trail, to the strange experience of shaking hands with the Queen of England," she writes. "I hope that as you're reading my story, you'll also think about your own—because it's the most beautiful gift you'll ever have."
As I read through the anecdotes that touched me so deeply the first time I'd read Becoming, this time reimagined for kids, I realized the story was the same. Michelle's experiences were the same. The feelings and lessons she'd absorbed from each thing she'd been through were the same. Some of the anecdotes are trimmed down a bit, but the honesty of each experience still remained; the story of her miscarriage, for one. The story of the frustration women feel when they have to endure the lion's share of the mental energy needed to become pregnant and be pregnant. These are just a few of many tales that weren't stripped bare of their meaning for a younger audience. And reading these anecdotes reimagined for a young reader's ear was an eye-opening experience for me.
"If I were to start a file on things nobody tells you about until you're going through them yourself, I might begin with having trouble having a baby," Michelle writes in the young readers edition. "Barack and I were excited when I finally did get pregnant. But sadly, that time I did not carry the baby to full term. Miscarriage, which is what that loss is called, is a deeply lonely and painful experience."
As I read these words, I felt an almost instinctual pull for breath and a tear forming. It reminded me of the moment I told my 10-year-old about the several losses I'd had before he was born. At the time when I told him, I wasn't sure he was ready. We were talking about the Frida Kahlo exhibit we'd just seen at the Brooklyn Museum, and the art she'd created as a tribute to her inability to have children stuck with him — as did the stories of her miscarriages. He was ready to learn what that meant, even if I didn't understand that he was. This was the same feeling I got when absorbing how Michelle Obama talks about her experience for young readers; that many times it's we as adults who aren't ready to share hard truths, not children who aren't ready to absorb them.
Spending time with this book is like spending time with a familiar friend. And after such a trying year, it was a welcome change to read stories of hope and empathy. To take a peek into Michelle and Barack's relationship and life. To see the way they shape and nurture their family while still being able to inspire people and have important work of their own.
This is exactly the healing book we all need right now. And it's such a powerful moment to share with your children.
The Young Readers edition and paperback edition of BECOMING are on sale now.
Bookshop.org donates profits to local and independent bookstores!