Michelle Obama Says She Has More 'Emotional Energy' Now That She's An Empty Nester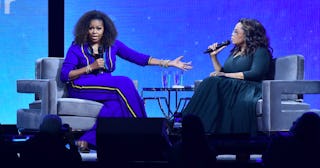 Theo Wargo/Getty
Michelle Obama also says she has more time to concentrate on life with Barack Obama now that they're empty nesters
Oprah Winfrey has been busy on her WW 2020 Vision: Your Life In Focus tour, interviewing everyone from Lady Gaga to Amy Schumer. This weekend Michelle Obama joined her on stage at the Barclays center and got real about life after kids and reconnecting with her husband, Barack.
Now that both the Obama daughters, Malia, 21, and Sasha, 18, are off at college, the former first lady, 56, opened up about life at home with Barack and her ability to concentrate on her marriage again and remember why she fell in love with her husband in the first place.
"Parenting takes up a lot of emotional space…I put a lot of time and energy into parenting these girls but right now we are trying to make their lives normal — so that means weekends were a pain," she admitted. "We had to worry about what parties they were going to, whether there was alcohol, I had to know who the parents were, so every weekend for me was hard."
"And they're gone, thank God," the Becoming author joked.
Obama also admitted that while her daughters were home, she had to "get information about what they were doing or not doing just like everybody else," which "takes some energy." Now, "all that energy I can now place back on me and spending time figuring out my next chapter, how I want to spend the rest of my life."
It's true. No matter our kid's ages, they are the focus of our time and energy. We don't think about all the time and effort that goes into every single aspect of parenting that is time away from ourselves, our relationships, and our marriages. It's all worth it but it's ok to admit it takes a toll emotionally.
The mom-of-two also admitted that parenting is hard and the amount of energy you spend on it takes time away from your marriage. "It's all of that. And this is what I keep trying to tell young people. Marriage is hard and raising a family together is a hard thing. It takes a toll."
"We're coming back to that point where we see each other again because some of the hardest times in our lives we just escaped, we survived it," she admitted. "We went through a tough time, we did some hard things together. But now we're out on the other end and I can look at him and I still recognize my husband. He's still the man I fell in love with."
Obama said therapy helped her see things from a different perspective."Sometimes you need an objective person to just hear you out," she says. Going to therapy gave the former first lady a completely different outlook on her marriage. "It taught me that I was responsible for my own happiness. I didn't marry Barack for him to make me happy. No one can make me happy," she said.
Now that she has more time to connect with herself and her husband, the former first lady said things are looking up. "It is so good, y'all," she laughed. "No, it is really good."
This article was originally published on