Michelle Obama Calls Trump 'Morally Wrong' & 'Racist' In Campaign Video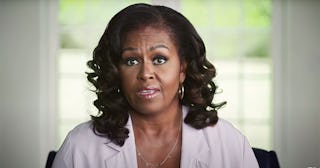 Joe Biden/Youtube
Michelle Obama releases "Closing Argument" as she urges undecided voters to support Joe Biden
Michelle Obama has long pledged to "go high" when they go low, but it's getting harder and harder to take the high road when we have a COVID-infested White House, a lying president, and an absolutely nightmarish daily reality. Now, with less than a month until the election, the former First Lady is leaving it all on the floor, calling President Trump "morally wrong" and "racist," and tbh, I'm wondering why she didn't say it all sooner, because it's not about going high, or low, it's about telling the truth about our commander in chief.
Michelle just released a 24-minute video for the Biden campaign that she called "Closing Arguments," a sort of last-ditch plea to voters. It's hard to keep track of the president's latest talking points as we've been embroiled in his current efforts to downplay the coronavirus pandemic, but just last week, the president refused to condemn white supremacy and continues to spread false rhetoric about Black Lives Matter protests and the so-called rioters. In her video, Michelle point-blank tells voters that Donald Trump "isn't up to the job" and is using fear and division to his benefit.
"Right now, the President and his allies are trying to tap into that frustration and distract from his breathtaking failures by giving folks someone to blame other than them," Michelle says in the video. "They're stoking fears about Black and Brown Americans, lying about how minorities will destroy the suburbs, whipping up violence and intimidation — and they're pinning it all on what's been an overwhelmingly peaceful movement for racial solidarity. So what the President is doing is, once again, patently false. It's morally wrong and yes, it is racist. But that doesn't mean it won't work."
"Racism, fear, division, these are powerful weapons," Obama warned her followers. "And they can destroy this nation if we don't deal with them head on."
Michelle says she filmed this video a few weeks ago and in light of the current COVID-19 chaos at the White House, she debated whether or not to share the video, but ultimately realized that her message is important, even if the current news cycle has gone off the rails.
"I wanted you all to hear what's been on my mind," Michelle said in the Instagram caption alongside the video. "Because the drama of the past few days has only emphasized what's at stake in this election, from the coronavirus to a constant drumbeat of fear, division, and chaos that's threatening to spiral out of control."
And speaking of the pandemic, Michelle urges undecided voters to "look around the world" at all the other countries who aren't in chaos like the U.S. is, who don't have new positive cases coming out of the White House every day. "They had the same kind of resources to contain it as we did," she said. "But what they didn't have to contend with was this president."
Michelle hopes voters will watch her video and come to realize that the only way out of this is by voting for Joe Biden.
"There's only one way we can pull ourselves out," she says, "By voting for my friend Joe Biden, who's got the heart, the experience, and the character to lead us to better days."