Michigan State Students Asked To Quarantine After 'Alarming' COVID Case Rise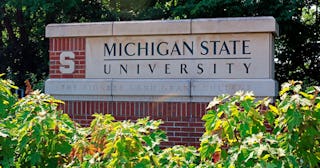 Education Images/Universal Images Group/Getty
One-third of the cases have been linked to parties
Michigan State University is requesting that all of its on-campus students self-quarantine for two weeks due to "an alarming surge" in COVID-19 cases.
Ingham County Health Officer Linda S. Vail said in a statement that at least 342 confirmed cases of the virus has been linked back to the university since Aug. 24, which is when students began returning to the East Lansing campus. MSU is doing remote learning this semester, so the spike in new cases is even more alarming. Many students returned, however, because they couldn't get out of housing leases. At least one-third of new cases have been traced back to off-campus parties and get togethers, including those in fraternities and sororities.
"All of us are responsible not only for our own health but also for that of the community, especially its most vulnerable members," said university physician Dr. David Weismantel. "More than 6,500 Michigan residents have already died from COVID-19. Further, what happens right now will significantly influence decisions on how much of the spring semester will be conducted in person or remotely."
New cases of COVID-19 grew by 5% or more in 11 states as of Sunday, according to a CNBC analysis of data collected by Johns Hopkins University, an increase from eight states on Friday. However, the overall daily average of new cases in the U.S. is declining. Over the past seven days, new reported cases are down more than 15% compared with a week ago.
As schools and universities begin in-person learning, however, these numbers could spike as they are doing at Michigan State. "This is a serious development, and MSU is committed to doing everything possible to prevent the spread of COVID-19," the statement continued.
Students have been asked to quarantine beginning Saturday through midnight on Saturday, Sept. 26. "This recommendation is not an emergency order; however, more stringent and mandatory restrictions will be imposed if students do not comply and break the transmission cycle," said Vail.
Four Michigan counties have the highest coronavirus transmission rates as of Monday, and they are all counties with state universities, Michigan Live reported. The state is averaging more than 29,000 tests per day.
Across the U.S., colleges that have reopened for in-person instruction have struggled to contain the spread of coronavirus. As a result, schools like The University of North Carolina and University of Notre Dame moved their classes to online learning for fall semester. Other universities have quarantined entire sorority houses or suspended students for congregating without masks or throwing parties.
USA Today analyzed data from Johns Hopkins University, finding that of the 25 hottest outbreaks in the country, "communities heavy with college students" represent 19 of the most recent outbreak areas.
"We are urging students to understand the imperative role that they play in stopping this community spread," said East Lansing Mayor Aaron Stephens, "and, ultimately, saving lives."
Information about COVID-19 is rapidly changing, and Scary Mommy is committed to providing the most recent data in our coverage. With news being updated so frequently, some of the information in this story may have changed after publication. For this reason, we are encouraging readers to use online resources from local public health departments, the Centers for Disease Control, and the World Health Organization to remain as informed as possible.