If Your Tween Is A Bookworm, We Have 10 Perfect Picks
by Sa'iyda Shabazz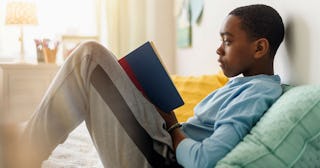 JGI/Tom Grill/Getty
Finding books for tweens to read can be a challenge. Tweens, who are between the ages of 8 and 13, are one of those difficult age groups to shop for in general. But when it comes to buying books? It's especially tough. You want to give them something they'll love, and as they get older, their interests change. Gone are the cute picture books, but they're not quite old enough for young adult books.
Luckily, middle grade books have made great strides since we were kids. And while books by Judy Blume and Beverly Cleary are classics, kids today need more. Representation matters, and middle grade books give kids that rep they need. There are an abundance of middle grade books out there, with a variety of styles that cover any topic you can think of.
From stories that use folklore to teach kids about other cultures to books that deal with grief, self discovery, or history, the middle grade books on this list run the gamut. There are a few books that include sequels, graphic novels and stories told in verse. And while some of these deal with issues like xenophobia or racism in the American South, they aren't preachy. Children will see themselves in these characters, because all of the stories speak directly to the experience of being in that weird in-between time in your life.
This middle grade fantasy draws on the magic of Black and African folklore to weave together an exciting story. Tristan Strong couldn't save his best friend from a bus accident. So when a sticky creature steals his best friend's diary full of stories, he has to get it back. But then Tristan punches a whole into a tree, causing a chasm into the MidPass. There he finds John Henry and Brer Rabbit exhausted from battle. The only way to fix the hole is Anasi the Weaver, a trickster. Can Tristan Strong save the world before it's too late? This is the first book in a series: the second is Tristan Strong Destroys the World.
Eleven-year-old Diana is the only child on the island of Themyscira, completely cut off from the rest of the world. Being only around her mom and "aunties" is isolating; she needs a friend her own age. After an escapade goes wrong, Diana gets in trouble for not living up to Amazonian standards. But she's not yet Wonder Woman, she's just an awkward girl. And when she tries to make a friend, she may have made a monster instead. This middle grade is perfect to watch after the new Wonder Woman movie.
Everyone thinks George is a boy, but she knows she's a girl. Worrying that she'll have to keep this secret forever, she is thrilled when she learns that the class play will be Charlotte's Web. But her teacher won't let her try out for Charlotte, the role she desperately wants. All because they think she's a boy. George enlists her best friend Kelly to help her come up with a plan. So she can be Charlotte and show everyone who she is.
Otto and Sheed are the mystery solvers in their wacky Virginia town. As the end of summer nears, the boys realize they need more time before school starts. But they can't decide how they want to spend the time they do have. That is, until a mysterious man with a camera shows up and literally freezes time. Now, Otto and Sheed need to stop arguing and work together before time stops — for good. There's also a second book, The Last Mirror on the Left.
Sixth grade is hard. And it gets even harder for Raina when she falls after Girl Scouts, injuring her two front teeth. Now she has surgery, on-again, off-again braces, headgear, and a retainer with two fake front teeth. And if that wasn't enough, throw in boy troubles, a major earthquake, and friends who may not be friends. This middle grade, true story graphic novel is the first in a series of three books.
When Scoob's G'Ma shows up for an impromptu road trip, he sees it as a way to save Spring Break. What he isn't expecting is the trip to be a lesson on the Civil Rights Movement in America. G'Ma uses The Green Book, a guidebook used specifically by Black people to travel the South safely. His G'Ma's lessons make history far more real for Scoob then school could ever. This is Nic Stone's first middle grade; she's a NY Times bestselling author of young adult novels.
Jude has to leave her older brother and father behind in Syria. Things are getting turbulent at home, so she and her mother are sent to live with family in Cincinnati. Life in the United States is nothing like Jude could imagine. It's fast, loud, and so vastly different from what she's known. Suddenly people call her "Middle Eastern," a new identity for her. But living in America isn't all bad — she makes new friends, connects with new family, even tries out for the school musical. This middle grade story, told in verse, redefines what "home" looks like.
Paola is 12 years old and obsessed with space. She and her two best friends, Emma and Dante have been told to stay away from the river ever since a classmate drowned. But for Pao, the rule came long before that: her mother had warned her about La Llorona, the wailing ghost woman who walks the river, looking for kids to drag into it. Pao ignores her mother's warnings and sets up a spot to stargaze along the Gila. Then Emma goes missing and Pao sees a shadowy figure in the reeds. She now has to go into this world she never believed in, facing monsters, mist and relentless spirits.
These ten stories (one per block) tell the story of what happens when the final school bells rings. "This story was going to begin like all the best stories. With a school bus falling from the sky. But no one saw it happen," the book begins. And the kids are too busy talking about boogers, skateboarding, executing complicated handshakes, stealing pocket change, and just trying to get home.
Shy girl Yumi Chung has a bad perm and has to deal with her class calling her "Yu-MEAT" because she smells like her family's Korean BBQ restaurant. But what her classmates don't know is that Yumi wants to be a stand-up comic. And she already has the jokes to make it happen. But then she has to spend her summer in test-prep tutoring. Her getting a private school scholarship could help with the restaurant. Everyone in the class thinks she's Kay Nakamura, and Yumi doesn't correct them. As it all starts to fall apart, Yumi has to decide if she'll reveal the truth or risk everything.
Books are the perfect escape from your life – and anybody who's ever gone through middle school knows sometimes that's exactly what you need. Gift these books to the tweens you know, and let them immerse themselves in the worlds of characters they can relate to.
This article was originally published on