Should I Have Another Baby -- Or Am I Having A Midlife Crisis?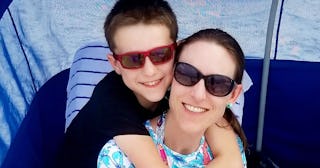 Courtesy of Angela Grossnickle
My one and only, Andrew turned ten in October. Months later I still cannot believe that he has been in my life for an entire decade. In ten more years he will be twenty and…wait, hold up. Oh my God, my baby will be twenty! In ten years, he will not be under my roof anymore. But I don't even have ten years. I really only have eight. In eight short years, Andrew will graduate from high school and head off to college. He will leave me and I will be all alone (if my husband was reading this he would ask if he is chopped liver and then laugh at me for being dramatic).
Okay, so maybe I do need to get out of my own head. I need to think about something positive…something like the fact that my birthday is this month. I have a fun girls night out planned to celebrate that I am turning…40. I knew this day would come eventually so I was planning on taking it in stride by drinking from a shared fruity fish bowl and belting out "Sweet Caroline" and "Piano Man." But now that I have only two weeks left in my thirties, I'm feeling less celebratory. I'm about to start a new decade of life that will probably include gray hair…a new decade where my one and only is going to leave me. What am I going to do?
Have another baby.
Whoa, where did that come from? Have a baby! Although I can tell myself that 40 is the new 30, 40 in reproductive years is old. Doctors use warm and fuzzy terms like geriatric pregnancy and advanced maternal age. I can't have another baby.
But the thing is lots of women have babies after forty like Halle Berry, Gwen Stefani, Tina Fey, my cousin Emma, and my friend Kate. I guess God willing I could have another baby. But that would be more than a ten year age gap between Andrew and his sibling. The days of sleepless nights, changing diapers, toddler tantrums, and paying an arm and a leg for daycare are LONG behind me. Life with one ten-year-old kid is easy. Why would I want to go and make things complicated?
I know what may be going on here. Maybe I am having a midlife crisis. Is it possible to have one of those when you are happy and feel like you are living your best life? I have a great job, a caring husband, and a beautiful home. My extended family is supportive and I have a tribe of amazing girlfriends. I am a year away from completing my MBA and I get to take frequent vacations. Plus, I have my one and only…the light of my life. Nothing brings me more joy than being a mother.
And now my baby is already ten. Every birthday celebrated means he needs me less and less. Don't get me wrong, it has been an absolute privilege to watch him grow into the amazing young person that he has become. I am blessed and I look forward to seeing what the future holds for him. I am very important to him and we are close. He still cuddles with me, holds my hand, and tells me that he loves me to the moon and back. But I know that time is not on my side. His friends are becoming more and more a priority in his life. He is less excited to go on family outings such as bowling or mini golfing with just the three of us. Video games are now more fun than building Legos or making a puzzle with Mom. It's only a matter of time before it will be uncool to be seen with me in public. And eventually girls will enter the picture and someone else will be the object of his affection.
Sigh.
I miss being needed by Andrew. I miss being the center of his universe…when his face would light up when I entered a room and he would run and throw himself into my arms. Sometimes I miss pushing a stroller. I miss shopping for tiny clothes. I miss singing "Twinkle, Twinkle Little Star." I miss reading Goodnight Moon over and over again a hundred times. I miss rocking him to sleep in my arms. So the question is, am just being nostalgic or do I really want another baby? How do I know the difference? Maybe this makes me sound silly. Maybe I sound whiny or even ungrateful. Or maybe this makes me sound selfish.
Sometimes I feel selfish…selfish that I didn't give Andrew a sibling years ago. Guilt often rears its ugly head because I know that he would be an awesome big brother. Over the years, others have also made me feel guilty with their judgmental comments about only having one child, but guilt is not a good reason to have a baby. And I have to admit that while I absolutely love being a mom, it's REALLY HARD sometimes! Andrew was a difficult baby and an even more difficult toddler. He was strong-willed and tested our patience constantly…he still does.
I guess all I can hope is that this internal struggle makes me sound human. That it is okay and completely normal to feel conflicted, emotional, and unsure of which path to take. I can take comfort in knowing that I am not alone in experiencing these types of feelings. That there are women of all ages out there who can relate because they are grappling with their own family size issues.
Have another baby.
I would REALLY miss wine though.
While my husband and I figure out which path we will travel down, I will embrace being 40. I will live a life of gratitude. I will fight off any feelings of guilt because at the end of the day there is no right or wrong decision. I will be present and enjoy every moment with my one and only…because the clock is ticking.
This article was originally published on