Migrant Children Separated From Parents Are Showing Signs Of PTSD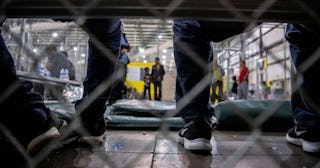 The Washington Post/Getty
Migrant kids are experiencing PTSD from the stress of family separation
A government watchdog report released this week paints a disturbing picture of the effects of family separation on migrant kids. The report highlights mental health problems migrant children are suffering from, including post-traumatic stress disorder. The process of being reunified with their families is making it even worse.
The Associated Press obtained a copy of the report from the inspector general's office in the Department of Health and Human Services. It explains that many of these kids were already distressed in their home countries or by the journey to the United States border and showed more signs of upset than kids who weren't separated from their families. Some were merely sad and crying while others thought their parents left them on purpose. "Other children expressed feelings of fear or guilt and became concerned for their parents' welfare," the report reads.
The report is the first time a government agency has reported on the effects of President Trump's "zero tolerance" family separation policy on kids. "You get a lot of 'my chest hurts,' even though everything is fine" medically, a clinician told investigators. The children told of their emotional symptoms too: "Every heartbeat hurts," or "I can't feel my heart."
"I can't feel my heart." What is this country even doing?
A program director told investigators that one boy of seven or eight thought his father was killed and "ultimately required emergency psychiatric care to address his mental health distress." Child psychiatrist Dr. Gilbert Kliman interviewed dozens of migrant kids in shelters after Trump's policy was enacted. He said while the kids may move on with life after enduring separation from their parents, they may never fully get over it.
Long-term symptoms for the children traumatized by being separated from their parents include: night terrors, separation anxiety, and trouble focusing. The issues don't subside as they grow up either — as adults, their chances of experiencing depression and having cancer are higher. Kliman foresees "an epidemic of physical, psychosomatic health problems that are costly to society as well as to the individual child grown up. I call it a vast, cruel experiment on the backs of children."
The report was based on interviews with around 100 mental health clinicians who interacted with the separated migrant kids regularly. Deputy Inspector General Ann Maxwell says, "Facilities reported that addressing the needs of separated children was particularly challenging, because these children exhibited more fear, feelings of abandonment and post-traumatic stress than children who were not separated." Maxwell notes, "Separated children are also younger than the teenagers facilities were used to caring for."
The watchdog noted that the longer kids were in custody, the worse their mental health became. It recommended lessening the children's time in border custody, hiring more trained staff, and creating more meaningful mental healthcare options.
No matter what we do now to make life for migrant kids detained in border facilities better, this report is proof that so much damage is already done — and cannot be undone. It will be decades before we understand all the fallout of this atrocity, and just how many lives have been ruined forever because of it.