Mila Kunis Shows Off Her $90 Wedding Band And Makes Us Love Her Even More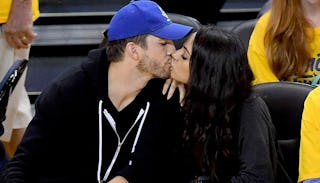 Photo by Thearon W. Henderson/Getty Images.
Mila Kunis shares how affordable her and Ashton Kutcher's wedding bands were
If you didn't already love Mila Kunis and Ashton Kutcher, the story about where their wedding bands came from will win you over.
The Bad Moms star was a guest on Conan this week and told the host that while she loves her beautiful engagement ring, she almost never wears it. Instead, she sports a simple wedding band she found on Etsy. Yes, you read that right. One of Hollywood's hottest couples is apparently incredibly chill.
The pair met more than 17 years ago on the set of That '70s Show. Kutcher was even the young star's first kiss. "I was like, 'Oh, he's so cute, it's the Calvin Klein model!' " the actress told People. "Then I was like, 'I have to kiss him?' I was so nervous and uncomfortable. I had the biggest crush on him." After many years of friendship, their romance blossomed and Kutcher asked her to be his bride in 2014. "He got me a beautiful engagement ring. Like, stunning, stunning, stunning," she shared.
But when it came to finding the perfect band for each of them Kunis wanted something less flashy. "For our wedding bands, for when we got married, I decided to just get them off Etsy," she said. "And so our wedding bands are from Etsy." How cool is that? Conan's a fan of the idea and added, "I've been talking to you for years and I've always loved the fact that you are frugal." Laughing Mila responded, "That's a nice way of saying cheap."
Affordable, frugal, cheap – whatever you want to call it we support it. Everyone knows that the size and materials used to make your ring don't compare to the love the represent. But for two actors who are constantly in the spotlight to understand and support that idea is fabulous. "I wanted the thinnest possible platinum band. It's super, super thin," Kunis told Conan. "And then I went and looked at how much — 'They're how much? This is astronomical.' I went on Etsy and it was like, $90, and I was like, 'Buy now!'"
The couple had a private wedding last year. Ashton's band only cost the couple $100. "So technically his was a little bit more expensive than mine," the mother of 2-year-old daughter Wyatt explained. The couple is expecting their second child and will clearly be passing on their down-to-earth vibe and great taste for reasonably priced jewelry. "My engagement ring is beautiful, but I don't ever wear it," Kunis said. "This ring, I'm like, '$90!' It's great. The person on Etsy had no idea whose ring they were making but they were wonderful and very nice and polite and generous."
Conan may call it "frugal," we call it "smart."
This article was originally published on