Mila Kunis And Ashton Kutcher Quietly Welcome Baby No. 2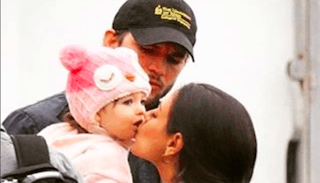 Image via Instagram
Mila Kunis and Ashton Kutcher have a new baby boy
As of this week, Mila Kunis and Ashton Kutcher are the proud parents of a baby boy. It's the couple's second child, which makes toddler daughter Wyatt a hopefully excited big sister.
The couple revealed on APlus, the media site founded by Kutcher, that their new little guy was born on November 30th at 1:21 am and his name is Dimitri Portwood. He weighed in at 8 pounds, 15 ounces.
We learned the couple was expecting a boy when Kutcher accidentally shared the news on a Today show appearance in October telling Savannah Guthrie of Wyatt's reaction to her future sibling. "She points to Mila and she's like, 'baby brother' when she points to the belly," he said, "and then she points to dad and she goes, 'Beer,' so I think she gets there's something in the belly but I don't quite think that she knows that it's not going to be a plastic doll yet."
Sounds like Wyatt might have her parents' sense of humor and comic timing, eh?
Speaking of her parents, the best part of this new baby from our end is knowing that Mila will be discussing her life as a mom even more than usual. She is as down-to-earth as can be expected for a celeb mom sharing how she refuses to let her kids grow up spoiled just because their parents are wealthy. She was quoted on a podcast over the summer saying, "It's a matter of teaching them from a very early age that, you know, 'Mommy and Daddy may have a dollar, but you're poor. You are very poor, you have nothing. Mommy and Daddy have a bank account.'"
Nailed it.
Kunis also admitted recently that even she isn't exempt from being shamed for breastfeeding in public telling Vanity Fair, "It took us a little back because people actually looked at us in a shameful [way], and we were like, 'Oh my God,' because it's so not a sexual act. It didn't matter to me what other people thought. That's what I chose to do, but I think it's unfortunate that people are so hard on women who choose to do it and do it in public. In the States and in our culture, we sexualize the breast so much that there's an aspect of it that people just don't know how to wrap their head around the idea of showing your breast in public. But I respect the opinions on both sides. If it's not for you, don't look."
There's no word yet on other details including the infant's name, but if Wyatt is any indication, it won't be something expected. But it will be adorable.
Congrats to the whole family!
This article was originally published on