Miley Cyrus's Feminist Statement About Dating Double Standards Is **Kisses Fingers** The Best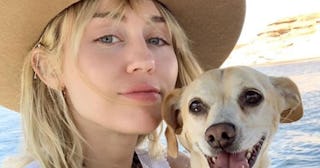 Instagram
Miley Cyrus was spotted kissing Australian singer Cody Simpson and the internet swooped in with judgemental and slut-shaming rhetoric
Miley Cyrus and Liam Hemsworth announced their split in August 2019 after quietly separating earlier in the summer. Since her divorce, Cyrus has been linked with The Hills star Kaitlynn Carter and Australian singer Cody Simpson. Apparently, the internet thinks that dating two people after a divorce is the absolute worst thing a woman can do, and the singer has been battling her fair share of digital slut-shaming, from holier than thou rhetoric that she needs to "slow down" to gross Tweets about threesomes. Not one to be marginalized, Cyrus released a pretty badass statement on the double standards that women face while dating.
After Cyrus was spotted kissing Simpson while getting breakfast at a cafe, the internet lost its damn mind, so Cyrus tweeted the most perfect clap back: "If our president can 'grab em by the pussy…' can't I just have a kiss and açaí bowl?!?!"
"Can't I just have a kiss and acai bowl" should be every single woman's battle cry, but Cyrus went beyond witticisms and got real in a lengthy social media statement, calling attention to the fact that men — we're not gonna name names but a few come to mind — don't face this level of scrutiny when they date.
"Men (especially successful ones) are RARELY slut shamed," Cyrus wrote. "They move on from one beautiful young woman to the next MOST times without consequence. They are usually referenced as 'legends', 'heart throbs', 'G', 'Ladies Man' etc…..where women are called sluts/whores! I am trying to just THRIVE/survive in a 'mans' world….if we can't beat em, join em! If our president can 'grab em by the pussy…' can't I just have a kiss and açaí bowl?!?!"
Cyrus understands that she's grown up in the public eye and the public feels a certain amount of entitlement over her relationships, though Cyrus says if you think that's going to deter her from living her life as authentically as possible, you've got another thing coming.
"This 'dating' thing is new to me too. I've never been an 'adult' / grown ass woman experiencing this," Cyrus added. "I was in a committed relationship for almost All my teens and early 20s…get used to me dating – this is where I am at!"
Cyrus punctuated that thought with the greatest Instagram image we've ever seen. The image features a collection of famous Hollywood lotharios like Leonardo DiCaprio, George Clooney, and John Mayer — men who have been celebrated for their storied dating histories — and then, in the center of the image, is Miley freaking Cyrus.
Oh to be young and smashing the patriarchy.