Miley Cyrus Changing 'Party In The USA' Lyrics To 'Free Britney' Is A Mood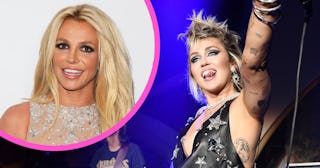 Jean Baptiste Lacroix/Denise Truscello/Getty
Miley Cyrus leads 'Free Britney' chant at a concert in Las Vegas
On Sunday, July 4, 2021, Miley Cyrus performed at the opening of the new Resorts World Las Vegas and during her festive Independence Day set, Miley spoke on some things that really matter, like Britney Spears and the ongoing saga of her abusive af conservatorship.
During "Party In The USA," Miley changed the oh so popular lyrics to pay tribute to Ms. Spears, which is fitting, seeing as Britney literally invented Las Vegas and I wouldn't even be writing the sentence "concert in Las Vegas" if it weren't for Britney.
"Free Britney," Miley sings into the mic. "We got to free this bitch! It's stressing me the fuck out!"
During the song, Miley normally sings the lyrics "And the Jay Z song was on, and the Jay Z song was onnnn." So in addition to celebrating Britney, Miley also shouted out "Honestly, fuck Jay Z" and I don't really know what Jay Z did wrong here (besides allegedly cheating on Beyonce), but I'm going to let Miley have her moment. Though later Miley seemed to realize her error and shouted out, "We love Jay Z, but free Britney."
Some fans pointed out how extra awesome it was that Miley shouted "free Britney" because they share the same record label — the label that has been complicit in and has profited off of Britney's conservatorship for years.
Miley has been vocal about her love and support for Britney for years now. "Britney, like anyone else, should have the freedom to live the life that's most authentic to her," Miley told iHeartRadio Canada back in August 2020.
Miley also shouted out, "We love Britney!" and changed the Jay Z lyrics to "…and the Britney song was on," during her pre-Super Bowl LV performance in February 2021, which happened around the time that the Framing Britney Spears Hulu doc dropped.
The latest update on the Britney Spears conservatorship drama is that her longtime manager Larry Rudolph has resigned as he claims Britney is about to formally retire from showbiz.
It should also not be overlooked that Britney alleged that the perpetrators in her conservatorship battle include her management team, which presumably includes Rudolph.
"I need your help," Britney told the judge last month. "Ma'am, my dad and anyone involved in this conservatorship and my management who played a key role in punishing me — ma'am, they should be in jail."
At this point, we — like Miley — all want to see Britney removed from her conservatorship, as she's made it very clear that it's what she wants, so really we need the justice system to get its shit together, legally speaking, and do right by Ms. Spears.