Miley Cyrus Shared Never-Before-Seen Pictures From Her Wedding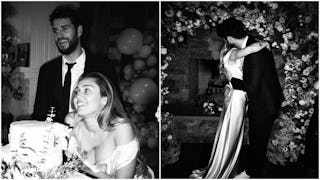 Image via Miley Cyrus/Instagram
Miley Cyrus posted some more snapshots from her wedding – prepare to swoon
Remember when Liam Hemsworth and Miley Cyrus were just two teens falling in love in the Nicholas Sparks drama The Last Song? Well, now they're newlyweds and quickly becoming everybody's favorite celebrity couple (sorry, Justin and Jessica, Chrissy and John, J.Lo and A.Rod – y'all have been usurped). Cyrus took to Instagram to share a few never-before-seen pictures from the pair's recent wedding, and they're a silky, floral dream come true.
The singer posted the pictures in celebration of Valentine's Day, and captioned a picture of herself embracing Hemsworth: "Thank you for always bending down to hug me … I promise I will always meet you in the middle on my tippiest toes! I love you Valentine!"
Sighhhh. Such an overload of love and cuteness and vanilla cake right there.
Cyrus also posted a couple of solo shots in her wedding dress, mugging for the camera, and I'm very, very much here for those too.
It wasn't all soft roses and dreamy canopies. The couple also enjoyed some V-Day sexy time as evidenced by the below tweet from Cyrus. Party in the U.S.A, indeed.
To add cuteness overload to cuteness overload, Hemsworth and Cyrus consistently has the most glowing things the say about each other. In late January, Hemsworth was awarded an Excellence in Film award at the G'Day USA Gala, and he gave Cyrus a shout-out in his speech, saying: "Thank you to my beautiful wife. You are a sweet, sweet angel. You're great, you're great."
Cyrus returned the love, telling Howard Stern that she calls Hemsworth her "survival partner." She recalled the time that he managed to save all her animals during the enormous wildfire that swept through Malibu.
"He was so incredible," Cyrus said. "He got all the animals out in his truck. He put two pigs in crates, which I tell you is so hard. I said, 'How did you get them out?' And he said the only thing he could do was get a really powerful hose and spray them in the ass."
Here's hoping for more dreamy couples content from #TeamHemsworthAndCyrus. The world can use all the loving it can get.