Miller High Life Will Come In Actual Champagne Bottles For The Holidays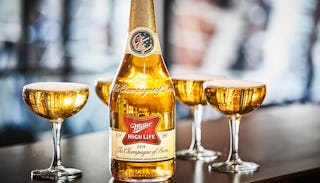 Image via Miller Coors
Because nothing says fancy like beer in a champagne bottle
If you're not a wine or cocktail kind of guy or gal but still want to feel fancy this holiday season, Miller High Life has you covered. The brand has long asserted themselves as "The Champagne of Beers" and apparently they're taking themselves literally.
Miller High Life will now be available nationwide in 750-milliliter champagne-style bottles this holiday season, so you can get your Fa-la-la on with a cold one. Because who doesn't want to ring in the New Year circa your college days?
Apparently these champagne bottle brews have made appearances in Milwaukee and Chicago over the past couple of years but will now be available nationwide so we all can partake in an actual beer fizzy. The new-and-improved High Life will be available in its more upscale packaging in plenty of grocery stories, liquor stores, and some bars that already carry Miller High Life. And for just $3.49, you can afford to get a little tipsy this holiday season — and look glamorous doing so.
Miller's spokesperson said the company "will only be releasing enough bottles to last throughout the holiday season," so you better jingle all the way down to your local establishment real quick-like. Once they're sold out, they're gone. Their 25.4-ounce bottles sold out fast in Chicago and Milwaukee last year, and "we had several calls from retailers and distributors asking for more," Taylor Brown, marketing manager for the brand, said.
High Life has almost always come in a Champagne-like bottle with sloped shoulders, which led to the eventual tagline "The Champagne of Beers," says Charlie Hosale, archivist at the MillerCoors brewery. "Also, at various times throughout its history and especially early on, High Life had ornate foil that covered the cap and top of the neck — similar to the way Champagne is sold."
Finally, their dream has been realized.
What's more? You don't have to worry about that pesky cork in the eyeball this year because these puppies are come with their standard bottle cap, which makes me wish I were a beer drinker. Unfortunately, all beer tastes like warm cat piss to me (or what I imagine warm cat piss would taste like), but hey — more for the rest of you.
I was told from an early age that Santa prefers beer over milk with his cookies, so this seems like a stellar way to also give back to the man in charge this holiday season.
Cheers!