Millie Bobby Brown Defends Her Friendship With Drake After Backlash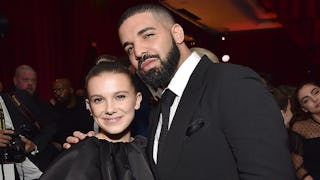 Image via Kevin Mazur/Getty Images for Netflix
Many people find Millie Bobby Brown's 'friendship' with the much older Drake concerning
Millie Bobby Brown is responding to those who are skeptical and critical of her "friendship" with 31-year-old rapper Drake. Brown kept quiet about the backlash that made headlines all week, until now.
The 14-year-old Stranger Things actress was asked about Drake on the Emmys red carpet, where she described him as "a great friend and a great role model" and said "We just texted each other the other day, and he was like, 'I miss you so much,' and I was like, 'I miss you more.'"
After mentioning that the two of them "text about boys," people everywhere weighed in on the controversial information. Because why would a 31-year-old man text a 14-year-old girl ever?
Brown took to Instagram to address the backlash, calling her relationship with Drake a "lovely friendship."
She also thanked those who have shown her support this week. "I love you guys. Thank you for supporting me. Many thanks to u guys. Sending my love to wherever u are in the world."
Regardless of Brown's defense of the situation, many people remain unconvinced that the texting and friendship between the two is as innocent as Brown says.
While none of us can actually speak on behalf of Drake or Millie Bobby Brown, the fact that her comments raised so many red flags for so many people is A Thing. I'm a 33-year-old woman and I can say with 100% conviction that there is absolutely nothing I'd want to text any male high school freshman about, nor would I ever seek out a "friendship" with any teenage boy. I can also say that my heart begins palpitating and my skin crawls even thinking about a 31-year-old man texting my teenage daughter "about boys" or that he missed her "so much."
Drake has yet to comment on the controversy — leaving it instead to the 14-year-old girl to bear the burden of responding.
This article was originally published on