Millie Bobby Brown Comforts Boy After No One Shows For His 'Stranger Things' Party
by Thea Glassman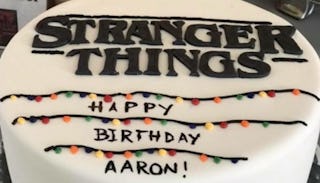 Image via Twitter/Ayen
Millie Bobby Brown sent the nicest tweet to a boy after his friends ditched his Stranger Things party
Get ready for your heart to both break into one million pieces and then get mended back together in a matter of seconds. A boy threw an epic Stranger Things-themed birthday party and none of his classmates showed up, which is all kinds of gut-wrenching. But then Stranger Things star Millie Bobby Brown sent the sweetest message to the birthday boy — making the world a happy, hopeful place all over again.
Over the weekend, Ayen Alambat tweeted out photos from her brother Aaron's empty birthday celebration. "My brother invited 8 of his classmates for his Stranger Things themed bday party & none of their punk selves showed up," she wrote.
This is heartbreaking on so many levels. Just look at the effort Aaron put into those decorations. This cake is literally everything.
There was even Demogorgon blood juice.
And the birthday boy himself looked so pumped about his party.
Her tweet has since been shared more than 45,000 times, liked by more than 200,000 people, and snagged the attention of Millie Bobby Brown herself, aka, Eleven from Stranger Things. The actress responded to Alambat's tweet by saying that she would have been more than happy to have attended Aaron's party and hopes that there will be a part two next year.
"You can let them all know that everyone on behalf on Stranger things would've come!" she wrote. "I think your awesome and next year I would like an invite… Please?"
NOPE. NOT CRYING AT ALL.
Oh yeah, and then Stranger Things' Gaten Matarazzo jumped on board and said he would ALSO be attending any future birthday parties, chocolate pudding in tow…so yup, definitely full-on crying now.
https://twitter.com/jetpack/status/976106678105116672
Also, the rest of the internet pretty much rallied together to wish Aaron a very happy birthday and reassure him that they definitely would've accepted his invite.
https://twitter.com/jetpack/status/975868094781558784https://twitter.com/jetpack/status/975898765663010816https://twitter.com/jetpack/status/975755829751107590https://twitter.com/jetpack/status/975881265504235520
Meanwhile, the birthday boy is feeling a lot better and his sister tweeted out two updates, one of which informed everyone that he's "chillin now" and sending thanks to everyone for their well wishes. He also will not be attending any of his classmate's birthdays in the near future.
The moral of this story is that Aaron deserves all the greatest birthday parties from now on and Millie Bobby Brown is a pretty much the best.
This article was originally published on