I Could Have Been A Millionaire And Still Had A Latte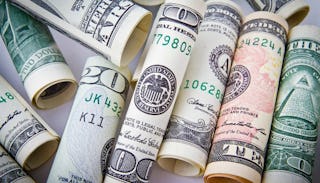 Pixabay
Money — we all wish we had more of it. Contrary to what every personal finance article tells me, cutting out a latte every day will not pave my way to financial riches simply because I refrain from spending $6 a day at Starbucks.
Instead, if I could go back and undo some of the many, many poor purchasing decisions I've made as an adult, I might very well be a millionaire today. Here is a list things I've wasted money on over the years:
1. Jeans in a slightly smaller size so I could be motivated to lose my baby weight and fit into them. Three kids later, and the tags still very much attached, I'm finally coming around to the idea that maybe I should just give them away.
2. The ball gown I bought at a BCBG sample sale because I said to myself, "I might need a ball gown someday." Ask me how many times I've worn it.
3. Those concert tickets to Ja Rule. I know my 18-year-old self would disagree, but in hindsight I could have really put that $40 to better use.
4. That shrimp quesadilla I ordered from a diner in a non-coastal town. I see now how some further thought should have been put into that decision.
5. A DVD of Spanglish. Just because Blockbuster had a $2 bin did not mean it was a good deal.
6. Those mini cheesecake pans I "invested in" when I somehow thought I had both the time and inclination to bake cheesecakes on a regular basis.
7. The Costco-sized bag of chia seeds. Because Costco is a perfectly reasonable place to buy random foods you've never before tried.
8. Lime green sparkly eye shadow. No further explanation required.
9. My entire vacation to Aruba, including the additional $80 I spent on a horseback riding tour that touted "One free bottle of water with tour purchase!"
10. Suspenders. Because I thought I could pull them off.
11. Ditto for that nerd-cool My Little Pony sweatshirt.
12. The Tupperware from IKEA with lids that didn't actually latch onto the bins. So naturally, I assumed I had a defective set and bought them a second time.
13. An at-home bikini wax kit. There are some things that are best left to professionals.
14. The Avril Lavigne CD. I know it was 2004 and My Happy Ending was oh so edgy, but still.
15. Those leather pieces, hair clips, and hot glue gun from when I was going to open my own Etsy store. I was ambitious, so I bought in bulk.
16. Rosetta Stone. My Español hasn't exactly reached fluency, which probably shouldn't be surprising, considering I never made it past Disc Uno.
17. That white bikini. Because, well, it's white. And bikinis get wet. And I wore it on vacation with my parents.
18. The $12.50 I spent watching Oz the Great and Powerful in the theater. If I could put a price on the time I lost watching it, I'd take that back as well.
19. The tacos I got from a vegan taqueria. I still have the taste of "nut cheese" in my mouth (not a euphemism).
20. The $60 haircut I got when I told the stylist-in-training "I'm open to anything!"
21. The label maker that was definitely going to help me get organized. It's still in the original packaging somewhere in my house.
22. That time I went to a boutique modern art museum that only had 4 pieces of art in it.
23. Library book fines. Because after all that, I never even read Go Set A Watchman or I Am Malala.
24. Anything from the dollar bin at Target.
25. Kangol beanies because some guy once told me I looked good in them.
26. An entire potting kit from when I thought I'd grow my own windowsill herbs.
27. Boba tea. It was only $4 but I really regretted it.
28. The electrolysis session I got on Groupon. Apparently one session doesn't actually do anything and additional sessions are $500/each.
29. Self-tanning cream. I went through an orange-tinged phase for far longer than I should have and no one ever told me.
30. Something I once saw on an infomercial. It's not important what it was, but no, it didn't work as advertised. Shocking, I know.
I'm sure I will continue to rack up regrets in the future. (Not you though, my beautiful new shirt that the salesperson assured me could be worn in four versatile ways.) But in the meantime, I'd like to convince myself I'm only a few preventable choices away from a vacation home in Hawaii. Hmm, I'm going to need a new swimsuit…
This article was originally published on