Mindy Kaling Shared A Pic Of Her Baby Stroller And Now Everyone Wants One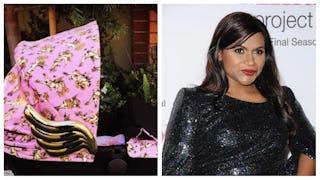 Image via Jason LaVeris/Getty
This stroller's got gold rims and gold wings
When you becomes a parent for the first time, your home gets flooded with a wide variety of baby-related items, among the most important of which is the stroller. When it comes to choosing a stroller, most people are primarily concerned with safety, portability, good wheels, etc.
Mind Kaling is not most people.
Kaling, writer and star of The Office and The Mindy Project, just had her first baby, Katherine, in December. Along with that baby came many of the essentials every parent needs to care for a newborn, including a ridiculous new stroller from Cybex by Jeremy Scott.
The actress took her daughter out for her first stroll, and shared a photo of the kid's tricked-out ride on her Instagram account.
This thing looks like it belongs in the next Fast and Furious flick! It's adorned with gold rims on the tires, as well as golden wings on each side, as if the stroller were transporting a goddess, or Cleopatra, or one of Beyonce's kids.
It's called the "Priam" stroller, and it's not merely gaudy and glamorous, it's also highly-functional. And it's not the only gaudy and glamorous thing the designer sells. Among the other items on the Cybex by Jeremy Scott website are:
The AtonQ, a car seat with gold details, because your baby's car seat should be more valuable than your actual car.
The 2.Go Baby Carrier, a Baby Bjorn type thing with golden wings to help you fool yourself and everyone else that your baby is an angel instead of a sleep-sucking parasite:
A Footmuff that looks like something a Pharaoh would be buried in:
Clearly, no expense has been spared!
The regular Priam – without Jeremy Scott's design flourishes – is sold in parts and costs about $1000. The Jeremy Scott version is a fair amount more – we've seen it listed at 1700 pounds, which converts to about $2500.
My baby isn't even worth $2500.
Babies are expensive enough with their clothes and their toys and their food and the diapers and the baby-proofing gear and all the other accessories necessary to keep them alive and healthy and loved. Spending nearly $3000 on a stroller probably isn't necessary, but more power to Jeremy Scott.
Personally, even if I had Hulu money, I'm not sure I'd be laying that much of it down on something that is very quickly going to be covered in all manner of bodily fluids, baby food, and Goldfish crumbs, but it does include drawings of Cupid holding a boombox on it, so maybe I would?
Earlier this month, Cybex tweeted out some photos of the Jeremy Scott edition of the stroller, complete with justification for anyone who wants to buy it: "It's not for the shy, it's for people who want to stand out."
If you've ever seen an episode of Mindy Kaling's show, or read her hilarious book, or come across her anywhere else, you know she likes to stand out. And now her baby will too, because when you're being carted around in a stroller that looks like that, you basically have no choice.