Mindy Kaling Wants To Be The 'Cool' Mom So She Got A Massive Swing Set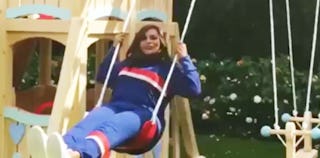 Mindy Kaling via Instagram
This is a child's dream backyard
As much as it is chaotic, it's nice to have your kid's friends at your house. You get to keep an eye on them (which comes in real handy as they enter the teenage years), you get to know their friends, and it's fun to be a part of the action. Actress and mom-of-one, Mindy Kaling, also agrees and wants to make sure her daughter's friends want to come hang at her place for many years to come.
"All I've ever wanted for my kid is to have 'the fun house'" Kaling wrote on Instagram next to a video of her swinging on what looks like the most epic play-set we've ever seen. "Remember that one friend that had the coolest backyard and everyone wanted to hang out there all the time? Well, now I'm the cool parent with the cool backyard."
It's like, a really nice play set.
Kaling, who welcomed her first child, daughter Katherine Swati, in December 2017, has been the ever-doting mother since her birth. She's also one to tell it like it is and has opened up in the past about motherhood and the anxiety that comes with it, saying, "I knew how much I would love her and love the experience of being with her. I never understood how much I would worry and how much that worry is unceasing."
She's also been protective of her daughter since she lives her life in the public eye, saying, "I'm keeping her under wraps for now. I would kill someone who said anything about her." Kaling says she's "too much of a worrier" to deal with any internet trolls who would dare to say something negative about Katherine.
Of course, Kaling, writer and star of The Office and The Mindy Project, being the ever-hilarious woman she is has also enjoyed sharing some of the over-the-top purchases like her new backyard playset by Cedar Works and this completely adorable stroller from Cybex by Jeremy Scott.
It may seem a bit too much to many but Kaling is a powerhouse writer, actor, and now mother and as we all know there's not much we wouldn't do for our kids. With the latest addition to her yard, I'd say she will most definitely be the house for her daughter and her friends to hang at — and that's just total mom goals.
This article was originally published on