Mindy Kaling Reveals She's Given Birth To Her Second Child!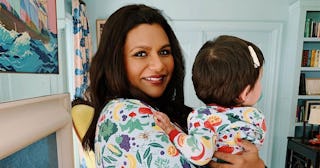 Mindy Kaling/Instagram
It's a boy for new mom-of-two Mindy Kaling!
Comedian and actress Mindy Kaling surprised fans (again) with the sweetest announcement on The Late Show with Stephen Colbert yesterday — she welcomed her second child, a baby boy, into her family last month.
Baby Kaling, who she revealed later in the interview is named Spencer, joins big sis Katherine, who Kaling gave birth to in December 2017. "I'm telling it for the first time now, it feels so strange. But I gave birth to a baby boy on September 3," Kaling told the late night host.
"No one even knew you were pregnant!" Colbert said.
"I know! I know! This is news to a lot of people," Kaling said. "It's true."
Katherine's birth was also a surprise to fans. With Spencer's birth coming during a pandemic, the actress said with so much heartbreak in the world, she didn't feel it was appropriate to publicize her pregnancy.
Kaling told Glamour in 2019 that she's always wanted to be a mom but would have put it off if it weren't for her mom, Swati's, death in 2012. "I'm happy that it happened when it did," she said. "I would have put it off indefinitely. I've seen firsthand the heartbreak of women who have waited to get pregnant [and then it doesn't happen]. For me, my relationship with my mother was such an integral part of my life. Thinking back on our relationship is still such a huge source of my happiness day-to-day, so I'm so grateful for having Katherine."
Kaling told Colbert she's thrilled at Spencer's arrival but is still getting used to the lingo. "Saying 'my son' feels very formal," she said, whereas "saying 'my daughter' feels contemporary and of the moment. But saying 'a son' feels so old-timey," she joked.
The mom-of-two shared an Instagram post recently backing Biden and Harris saying in part that she was voting with her daughter in mind. "I want her to see that her elected leaders can be the children of immigrants, as her mom is," she said. "But most importantly, I want her to see a President and Vice President whose capacity for empathy is their greatest quality."
While we haven't yet seen a picture of baby Spencer, chances are it will be some time before Kaling gives us a peek at the little guy. She's extremely protective of daughter Katherine and, when she does post pics of them together, doesn't show her face. That's just fine with us — we'll take the back of an itty bitty baby's head any day.
Congrats to the new family!