Mindy Kaling's 'Makeup Free' Mom's Night Out Is Relatable AF
by Thea Glassman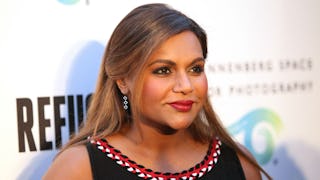 Image via David Livingston/Getty
Mindy Kaling's mom's night out is all of us
Can we all just agree — on a very serious, deep level — that we wish Mindy Kaling could be our best friend? I mean, she's insanely funny, crazy talented and she starred as two of television's best: Mindy Lahiri and Kelly Kapoor.
Also, the new mom to daughter Katherine recently had a very hassle-free mom's night out making her, yet again, one of the most relatable stars in Hollywood.
Kaling took to Instagram to post a photo of herself out on the town with a caption that read: "No makeup no filter mom night out."
YES to all of that. It can be very fun seeing celebrity moms looking all gussied up, with the blown out hair and red lip — but it's so much more fun seeing an celebrity mom who does not have the time/energy/interest to do all that. Because, seriously, putting on a whole nighttime face takes so much EFFORT. We should all probably get a round of applause for even taking off our sweatpants.
Kaling's new motherhood journey has been so much fun to (vicariously) be a part of. While she hasn't said much publicly about her daughter since the birth in December, she did open up on The Today Show abut her pregnancy back in September.
"As you know, it's so easy to criticize parenting until you're a parent. So one of the nice things about becoming a parent is that I'll be able to openly criticize other parenting," she joked.
The actress has also posted little bits and pieces on social media — and it's just enough to make your heart very, very happy.
Like, this sweet picture on Christmas.
Some ridiculously adorable baby swag.
And some MORE ridiculously adorable baby swag. That stroller has rims. GOLD RIMS.
I have a sneaking suspicion that Kaling's daughter is going roll into pre-K looking pretttttty cool.
Here's to Kaling's fabulous life as a new mom and so many more makeup free, IDGAF mom nights out. We'll be right there with you.
This article was originally published on