One Woman Reminds Us Miscarriages Aren't Just Heartbreaking, They're Expensive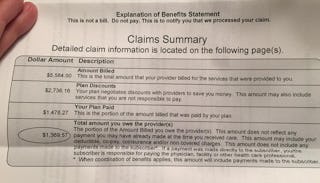 Janie Faville miscarried after nine weeks of pregnancy.
A Missouri woman shared a photo her hospital bill for her miscarriage to remind people why we need affordable health care and organizations like Planned Parenthood. A miscarriage is not just emotional and painful — it's also expensive.
"Because people don't talk about it, I will. This is how much a miscarriage costs with good insurance," Janie Faville wrote alongside the photo of her hospital bill that she posted on Facebook. "THIS is why we need Planned Parenthood." Her claims summary detailed the costs the medical procedures associated with her miscarriage, which totaled $5,584. Even with her insurance covering most of it, Faville must pay $1,369.57.
Planned Parenthood has provided medical services to women since October 16, 1916, when Margaret Sanger opened the first clinic in New York. The organization does offer services for women who miscarried at certain locations and the costs are more reasonable than visiting a local hospital. Sadly, Planned Parenthood has faced intense opposition from the Republican party for decades, which greatly limits its ability to help women. And as Faville noted, when women are in the midst of a miscarriage the last thing they think of is the cost.
"I am lucky. I have great insurance through my employer ($1000 plus coinsurance), and I was still left paying a significant amount of money," Faville told Scary Mommy. She determined a payment plan with her health insurance provider and the social worker will pay off the bill in the following months. She said the situation made her think about expectant moms who wouldn't be able to pay the high price associated with such a devastating and unexpected event. "I wanted to bring light to the fact that due to these steep medical costs, many women who experience miscarriage may not be able to access the routine, 15 minute procedure that can reduce their risk of infection and future fertility complications, not to mention the ongoing trauma that comes with carrying your dead baby while you wait potentially weeks for the inevitable," she explained. "Basic healthcare should be a right in our country, not a privilege."
Faville is far from alone. About 10 to 25 percent of clinically recognized pregnancies end in miscarriage, according to the American Pregnancy Association. Most miscarriages happen during the first 13 weeks of pregnancy. "Miscarriage and the costs associated with it are topics that people just don't talk about,"Faville said. "It can be an isolating experience, and I wanted women who had been there before and women who will be there in the future to not feel alone." She shared that her husband has been very supportive through the experience, including her decision to go public with their story. "I think we are both thankful that some good has come from the loss of our child," she explained.
The stress of paying a hefty bill after a miscarriage only makes the experience worse, which some people spoke out about on Faville's post. "It is like rubbing salt into a wound. It's like paying for someone to rip a piece of your heart out," one commenter shared. "I remember feeling appalled at all my bills from the emergency room, all the doctors, and even the additional ultrasound just to tell me all traces of my baby were gone. Can't imagine the additional stress of not having 'good' insurance."
While Faville continues to recover from her miscarriage a month ago, she said she's thankful her situation allowed medical care, but reminds us, "some women don't have that choice."
This article was originally published on