Beauty Queen Refuses Crown After Emcee Jokes About #MeToo Movement
by Christina Marfice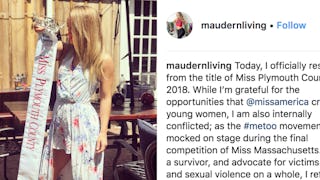 Image via Maude Gorman / Instagram
A Miss Massachusetts Pageant participant returned her crown after a gross, unacceptable joke by the emcee
What should have been a time to celebrate women and all we're capable of turned into a nightmare for Maude Gorman, a Miss Massachusetts Pageant contestant who just announced she's giving up her crown. Why? Because the emcee at the pageant shamelessly joked about the #MeToo movement.
That sort of behavior should be unacceptable to literally any human, but to Gorman, it was an especially painful slap in the face. Gorman survived a gang rape when she was 13. She told CNN of her reaction to the awful joke saying she "instantly knew I had to do something. It was going to eat away at me if I didn't."
In an emotional Instagram post, Gorman explained her decision to give up her Miss Plymouth County crown.
"While I'm grateful for the opportunities that @missamerica creates for young women, I am also internally conflicted; as the #metoo movement was mocked on stage during the final competition of Miss Massachusetts," she wrote. "As both a survivor, and advocate for victims rights and sexual violence on a whole, I refuse to stand idly by and simply 'let this go.'"
"Instead, I will stand up for every individual who has ever had the courage to speak out; and for every person who felt liberated by the #metoo movement," she writes. "I will not allow ANYONE to take away that empowerment and liberation, or make it anything less than what it is: AMAZING."
The emcee in question reportedly put on a skit in which he bemoaned the elimination of the swimsuit portion of all Miss America pageants, and mocked the #MeToo movement, which has encouraged and empowered women to share their stories of surviving sexual harassment and assault, calling for an end to the overwhelming flood of women saying, "Me too."
Gorman told CNN she was backstage with the other contestants at the time, and while none of them saw the skit, they could hear it.
"We were all shocked," she continued. "We said, 'Oh my god. I cannot believe that just happened. Did that just really happen?'"
It's absolutely unacceptable, but it's not really all that shocking. This news comes just days after Donald Trump similarly mocked the #MeToo movement, and all the survivors of sexual violence who have spoken out, during a campaign rally in North Dakota. The women who have joined the movement are strong as hell, despite all these powerful men who want to continue to abuse and oppress them. We all have to follow Gorman's lead and stand strong against them.