When I Miss My Baby The Most, This Is What I Hold Tight To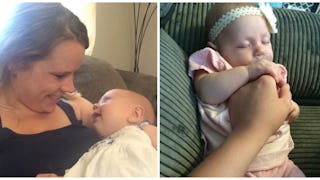 CAILA SMITH
Trigger warning: child loss
As a parent, losing a child is never a part of the game plan. That happens to "other people." But it happened to my family even though I never thought something that awful could happen to us.
For our family, it happened unannounced, swiftly and silently. I woke up to my four-month-old baby laying lifeless and already gone before we attempted to fight the good fight.
Here one moment, and gone the next.
It's been almost three years, and I can still physically feel what it was to lose her that morning. And I live through what it's been every day since.
It feels like we lost her yesterday, but it also feels like a million lifetimes ago. Now that her clothes don't carry her baby scent, we aren't finding anything "new" of hers that we once misplaced, and others have seemed to forget her in casual conversation, my baby really feels gone.
The brutal truth is that time does not heal all wounds, and I'm guessing whoever started that cliché has never buried a child. Because some wounds are dug so deep that they are here for the long haul to stay.
Because the more time moves on, the more it feels like my daughter is slipping further and further away.
But what I need to hold on tight to are these chiseled-in-stone facts: As long as I live, her memory and existence will not slip away or even go untold. Even in the complexities of death, I am my daughter's fiercest and most driven advocate. And I will forever be a shield to anyone or anything that tries to disrupt her memory or good name.
My love — a mother's love — is so mighty, heavy and moving, that not even death can unlock it's grip which is a steel chain, for she is with me even when it feels like she is not. Her soul is embedded, entwined, rooted and carved into mine. There's not a place I go where she does not follow or lead the way.
She is the very existence of my sweetest memories, and she is all of the hearts in the clouds. She is the beaming sun on my chest during a warm, summer day, and she is the smell of fall when the leaves start to give away.
I could crumble and collapse on the very worst days, but somehow I remain upright and standing. For there is a little girl pointing to earth from the pearly gates and pronouncing loudly, "See her? That one right there? She is my mommy. "
She is the fawn greeting my mother at the gravesite, and she is the cardinal that doesn't stray too far when I'm in need of some small comfort.
My baby left this home for an eternal other when she was just four months and two days old. But in the sweet dreams that I dream, she is 4-5 years old with long blonde hair and skipping alone. Her fingers touch the tips of tall blades of grass, and I'm dreadfully awoken before she turns around each time.
Our universes are parallel, and sometimes I wish heaven and earth would just collide.
To be reunited with her, would render me speechless and leave my heart overflowing plenty. But Lord knows it's not my time to leave. So until then, my soul will live on adjusting to it's new gaping hole. And in the meantime, I ask that the angels teach her the things about me that I desperately want her to know.
I loved and still love her dearly, and I will not suppress that until my heart stops beating. She deserved forever and longer, but the plans of the world didn't unfold as I wanted. It's unfair and inhumane, and it's wrecked me.
She was supposed to sit upon my lap, and I was meant to rock her to sleep many times once more. I didn't plan to lose her, who was I to see what was coming? I don't possess the hands of a God, but for her I would die a million deaths in an instant just to see her well and living.
Even as a writer, it's difficult to form the true pain of child loss into words. But because of her sweet and pure soul, I choose to rise up and live again once more. For even though her story is closed, there are still chapters of my book sitting blank and unwritten.
It'd be a waste of space and an utter disgrace to drudge through life in a depressed and mournful haze. I will always miss my baby. But as long as I live, I need to remember that she's really not so far away.
I am hers, and she is mine. Though her name be written in stone, she will forever be my baby.
For child loss resources, financial aid and support, check out our Scary Mommy Child Resource Page to connect with others who just "get it."
This article was originally published on