Missy Elliott Shares Video Of Jaw-Dropping Mother-Daughter Dance Routine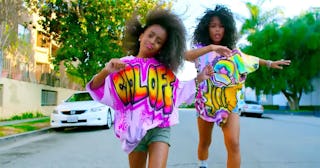 Tianne King/Youtube
Missy Elliott is seriously impressed with a mother-daughter duo whose dance skills are truly next-level
Missy Elliott has been making our lives better since most of us were in middle school, and she's still here for us in adulthood with new music and a very fun social media presence. You may remember when she spotlighted her "funky white sister" for doing a karaoke version of "Work It" that's yet to be topped. Now, she's at it again with showing her followers how talented her fans truly are.
Elliott shared a video on her Instagram account of a mother-daughter duo who have dance skills you need to see to believe. Even Missy Misdemeanor herself was stunned. "WOW! Check this momma & Daughter duo Str8 SNAPPING!🙌🏾🙌🏾 how many people can do a routine with their momma or daddy," she wrote.
https://www.instagram.com/p/B22KvWgAKSp/?igshid=1r1jobhd2ovz6
"My momma would of been on the side leaned up against the car talking about Dats my Baby wit a church fan," she joked. The new Missy song the ladies danced to was called "Cool Off" from the rapper's new album "Iconology" and the dancers are Tianne King and her daughter Heaven, who works as a dancer and choreographer.
And they. Can. Move.
https://www.instagram.com/p/B2wuReWJYcO/
I am shooketh.
https://www.instagram.com/p/ByvvsxLFUqO/
I pulled three muscles I didn't even know I had just watching them.
https://www.instagram.com/p/BmG0M7Ehy66/
Aside from their absolutely mind-boggling skills, how about the total joy on their faces? Is there a better mother/daughter hobby than just dancing your butts off together? I think not.
Oh, and FYI, even without her momma, Heaven is legit as a stand-alone act. Be ready to see this girl all over the place — she is a phenom.
Missy obviously knows talent (and a serious fan) when she sees it and we thank her for blessing our timelines with this total gem. Follow Heaven and her mom for more daily dispatches from this crazy-talented family.
This article was originally published on