PBS Kids Airing Full Week Of 'Mister Rogers' And 'Daniel Tiger' Double Features
by Cassandra Stone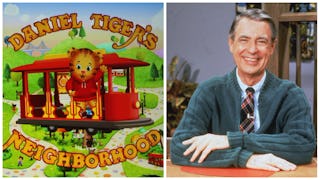 Image via Frederick M. Brown/Fotos International/Getty
PBS Kids is honoring of 50 years of 'Mister Rogers' Neighborhood' all week
Parents and kids alike are in for an amazing special treat starting tomorrow — PBS is going to air episodes of Daniel Tiger's Neighborhood and Mister Rogers' Neighborhood in honor of the 50th anniversary of Mister Rogers' premiere.
The best part? The double feature celebration lasts all week!
PBS Kids will air the double features starting Monday, February 26 and every day this week. That's five days of watching our own beloved Fred Rogers and his modern counterpart, Daniel Tiger. Pretty 'grrrriffic,' if you ask me.
The episodes will be complementary in nature, dealing with childhood events and emotions in only the way Mister Rogers and Daniel Tiger can.
February 26: Daniel Tiger's Neighborhood "Daniel's Fish Dies/Daniel's Strawberry Seeds" (NEW) and Mister Rogers' Neighborhood "Death of a Goldfish"
February 27: Daniel Tiger's Neighborhood "The Tiger Family Grows/Daniel Learns About Being a Big Brother" and Mister Rogers' Neighborhood "Families"
February 28: Daniel Tiger's Neighborhood "Visiting Grandpere/The Tiger Family Goes Home" and Mister Rogers' Neighborhood "Grandparents"
March 1: Daniel Tiger's Neighborhood "Friends Help Each Other/Daniel Helps O Tell a Story" and Mister Rogers' Neighborhood "Friends"
March 2: Daniel Tiger's Neighborhood "Daniel Gets Mad/Katerina Gets Mad" and Mister Rogers' Neighborhood "Mad Feelings"
It's the kind of parent-child programming everyone can appreciate — nostalgia done right.
If I may, I'm going to get personal for a moment here. There's no doubt parents of many generations feel a special kind of love for Fred Rogers. He made us feel loved and safe, and he honored our inquisitive minds by gently validating every one of our feelings and concerns. I'm from Pittsburgh, where Mister Rogers' Neighborhood took place and was filmed for several years, and our city is still featured prominently in Daniel Tiger's world.
Fred Rogers is a saint here in Pittsburgh. We have monuments, statues, and more than a handful of museum exhibits dedicated solely to the man, his creations, and the generosity and love he showed our city for most of his life.
No matter where you grew up, though, Mr. Rogers was the kind of grown-up we all needed in one way or another — and he was always there for us. His mission in life was to fight for children's programming, and in doing so he earned the trust and respect of children everywhere who grew up to be parents themselves. There's probably nothing he'd love more than to know parents were curling up with their children to enjoy this week of special programming.
Be sure to check your local PBS station listings for exact air times.
This article was originally published on