The Trailer For The 'Mister Rogers' Documentary Is Here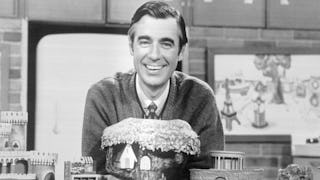 Image via Bettmann/Getty Images
The trailer for the Fred Rogers documentary "Won't You Be My Neighbor" was released today
Today would've been Fred Rogers' 90th birthday, and it's hard not to wish with all our might that he were still here — because his gentle nature and loving heart are needed now more than ever. Thankfully, his memory is being kept alive by us nostalgic adults who let our kids watch Mister Rogers' Neighborhood and now, there's a new documentary coming out about what drove Rogers in his life and in creating his revolutionary television show.
You should snag a few tissues before hitting "play," because this trailer packs more of an emotional punch than you might expect. Don't say I didn't warn you.
While you finish blubbering, here's a little more info on the upcoming documentary from Oscar-winning director Morgan Neville. Titled Won't You Be My Neighbor?, the Focus Features film shows viewers how Mister Rogers' Neighborhood came to be, and how Rogers' personal philosophy of love and kindness guided every episode over a run of more than 30 years.
From making statements by welcoming characters of color at a time when that was considered radical, to creating episodes that would help children grapple with hard things like death (there's a 1968 episode dedicated to the assassination of Robert Kennedy) and divorce, Rogers' program was absolutely one of a kind.
"Love is at the root of everything," he says in the trailer. "All learning, all relationships, love or the lack of it."
His approach in treating kids with respect and patience is part of what made him such an icon. He recognized that little ones have complex lives and ideas of their own — and he listened to them. "Children have very deep feelings just the way everybody does."
At the end of the clip, Rogers says, "The greatest thing that we can do is to help somebody know that they're loved and capable of loving." That is his legacy, one I'm thrilled to share with my own children. If you'd like to do just that, there's a Mister Rogers marathon airing all day on Twitch in honor of his 90th birthday.