A Big MMA Match Was Interrupted By 'Peppa Peg' And The Reactions Are Hilarious
by Thea Glassman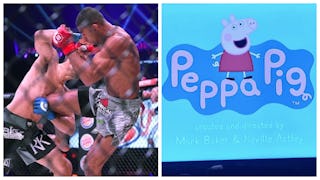 Image via Getty/Jayne Kamin-Oncea/Twitter/SeanSheehan
People were very confused when an MMA match was cut off for an episode of Peppa Pig
On Saturday night, two MMA champions came together to duke it out in the ring for Bellator 206. Plenty of jabs were thrown, there was a bloodied nose, and a whole lot of overall pounding. Fans in the UK unfortunately missed the match because the program was cut off when an early-morning episode of Peppa Pig came on.
People quickly took to Twitter to express outrage and bafflement, and it's hilarious.
As a quick recap: Bellator 206 featured a fight between middleweight champion Gegard Mousasi and welterweight champion Rory Macdonald. Peppa Pig is an animated series that follows the adventures of a young pig who likes to go swimming, visit her grandparents, and ride her bike. Those two things don't really have overlapping audiences, hence the hilarity.
Fans of MMA in the UK stayed up all night to catch the match, which aired at 10pm in San Jose, California. By 6am, the show was cut off because it went against programming restrictions. It was replaced with Peppa Pig and people were pissed. MMA fans waited all night to see a fight, not an adorable-but-spoiled young cartoon pig.
Some fans were disappointed but were pretty good sports about the whole thing.
A few others chimed in to say that they were bummed they missed the fight but ultimately glad that their children didn't wander in at six in the morning and catch two people beating each other up.
Dawwww. Peppa appreciates the support.
Meanwhile, the company's president Scott Coker heard the outrage loud and clear. He offered a statement to assure angry MMA fans in the UK that he was working on the problem.
"Believe me, when it switched over there were a lot of texts going back and forth and they all were not friendly," he said. "We were trying to fix it, we thought it was a technical glitch. But it wasn't, it was a governmental issue. I can promise you the next time it's not going to happen…it's an unfortunate situation."
Here's hoping that UK fans don't miss a key MMA match again. Here's also hoping that Peppa had a lovely day at the playground with her friends and Grandpa Pig. OINK!
This article was originally published on