No One Looks Like This When They're Breastfeeding, But That's Beside The Point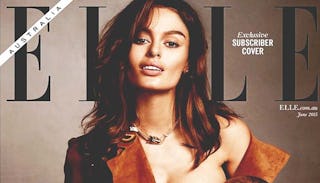 Model Nicole Trunfio was photographed breastfeeding her baby for an upcoming ELLE Australia cover. It inspired the hashtag #NormalizeBreastfeeding to spread across Twitter. The image is circulating wildly around the internet today:
The model had her four-month-old baby Zion with her on the shoot. The photos were not planned or contrived: baby had to eat, and when the art directors saw how beautiful the image of mom feeding her child was, they decided to move Trunfio and her baby onto the set. She's a gorgeous supermodel who'd probably look beautiful doing anything, but that's beside the point. You probably want to shove her for looking this amazing four months postpartum, but that's totally beside the point, too. Don't you want to just shove her a little? Not so she falls all the way down, just to her knee. (I'm kidding. Sort of.)
#NormalizeBreastfeeding is a hashtag that exists to — you guessed it — normalize the act of feeding our children. When it comes to breastfeeding, if you don't do it, you're shamed. If you do, you're shamed. The hell do you want from us, world? Trunfio posted an image of her cover shot to her Facebook page, along with this statement:
There is nothing more powerful and beautiful than motherhood. The last thing I want to do is be controversial, so please take this for what it is, let us#normalizebreastfeeding there is nothing worse than a mother that is judged for feeding her hungry child in public. #weareonlyhuman I'm so proud of this cover and what it's stands for. I obviously don't look like this or wear while[sic] I am breastfeeding but this stands for all women out there, whether you breastfeed or not, we gave birth, we are women, we are mothers. Thank you to ELLE for being so bold and making such an encouraging, positive and healthy statement.#womenunite
This is a gorgeous supermodel in expensive clothes feeding her baby on the set of a professional photo shoot. For that reason, many online critics (aka Facebook commenters) are insisting that this isn't reality at all, and does nothing to advance the call to normalize breastfeeding. Fair enough, but this is her reality. She's a working mom with a breastfeeding child, and the image promotes acceptance of the unique things a working mother has to deal with. Breastfeeding mothers face the same judgment, whether they're gorgeous supermodels posing on the cover of a magazine, or regular women attempting to feed their children in a public space. There's always someone begging the question, "Why?"
Because our babies are hungry and they want to eat, that's why. And there are some of us who aren't going to juggle pumps, and plan head with bottled breastmilk, and buy covers our children hate, simply because random people in the general public might have a weird hangup about seeing a mother feed her child. Your problem is not our problem — especially since feeding a child in public is totally legal. If you have a problem with it, you need to find a way to deal. May I suggest a blindfold?
This photo is considered a statement because we're still not in a place where we view breastfeeding as a totally normal function that some mothers rely on to feed their children. We need to #NormalizeBreastfeeding because it's still not. And that's just ridiculous.
Related post: What's So Hard About Covering Up To Breastfeed?
This article was originally published on