'Modern Family' Actress Calls Out Body-Shamers In Bold Instagram Post
by Ashley Austrew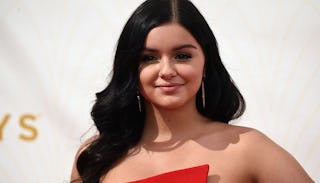 Modern Family actress Ariel Winter is one of the most outspoken young stars when it comes to female empowerment and body image, which is why she didn't shy away from shutting down some body-shaming Instagram commenters over the weekend.
On Friday, Winter shared a Flashback Friday snap of herself with her two young nieces hanging out on a boat. Winter happened to be wearing a bikini because, duh, she was on a boat.
Apparently some Instagram users took that as an invitation to make some truly gross remarks about the 17-year-old's body. Several people started leaving sexually suggestive comments and insults, with one calling the actress "fat" and others commenting on her breasts. When people jumped in to defend her and remind people that she is a teenager, one user wrote, "She may be underaged but she doesn't look like it. BTW, she knew what she was doing by posting herself in a bikini." Yuck.
The user seemed to be implying that Winter was "asking for" the degrading comments, and that's when Winter herself jumped in to respond. She wrote:
"There is no need for this kind of energy on my Instagram. This is a photo of me and my nieces — there is no need to turn it into anything else. I am not only standing up for myself but for all other girls out there — when they are dressing a certain way they aren't 'asking' for anything — and for to insinuate that is uncalled for. I pray you find kindness within you somewhere."
She later took it a step further and posted another photo reminding women that no one has the right to comment on their bodies or use what they're wearing as a justification for saying or doing things that demean them.
This isn't the first time Winter has responded to body-shaming in a powerful way. Earlier this year, she opened up to Glamour Magazine about bullying she's faced being a young teen with size 32F breasts. She opted to undergo a breast reduction and told the magazine it was a way of taking back her power in the face of "awful internet bullies" and an industry (television) where women are "always over-sexualized and treated like objects."
Winter's positive messages about confidence and body image are inspiring for any woman to read, but they're especially important for her young fans. Kids who look up to Winter are right in the midst of high school slut-shaming, bullying, and body image issues. For them, she is a positive role model with a strong message. Kudos to her for being wise beyond her years and for encouraging young women to be proud of who they are.
(Feature Image via Larry Busacca/Getty)
This article was originally published on