Modern Family Casts TV's First Transgender Child Actor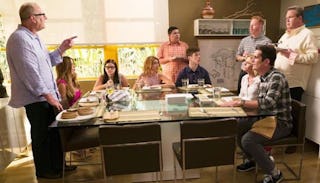 Image via Instagram
Modern Family makes history by casting TV's first transgender child actor
ABC's popular sitcom Modern Family announced the casting of a transgender child in their latest episode. The history-making show is airing tonight. This is the first time a transgender child has been cast in any prime-time series. It's incredible news for the transgender community in a time where roles aren't often awarded to them, even for characters who are transgender.
According to Variety, 8-year-old Jackson Millarker, who identifies as transgender, plays the role of a friend of Lily's, the daughter of Jesse Tyler Ferguson (Mitchell) and Eric Stonestreet's (Cameron) characters. The episode is titled "A Stereotypical Family." His character's name is Tom and the story-line involves Cameron and Mitchell being proud of their little girl for her open-mindedness in having a transgender friend. But as is the show's trademark format, the couple overhears what sounds like Lily insulting Tom during a playdate, which leads to the episode's teachable moment.
Millarker is the first transgender child actor to appear in a prime-time series, but some adults have paved the way. Emmy-nominated actress Laverne Cox stars in Orange is the New Black and Nashville recently cast a transgender woman in a recurring role. The news of Millarker appearing on Modern Family comes in the wake of Jeffrey Tambor's Emmy acceptance speech after winning Best Actor for his part in Transparent.
He spoke of the need to cast actual transgender actors in the roles of transgender characters saying, "To you people, you producers and network owners, agents and creative sparks. Please give transgender talent a chance. Give them auditions. Give them their story. Do that." Tambor also noted that he would be fine with being the last cisgender man in a transgender role and young actors like Millarker provide a hint of what's hopefully to come.
Representation matters and transgender kids seeing a child like them on a popular TV show is an incredible thing. We have a long way to go toward our country fully accepting transgender individuals. This is an encouraging step in the right direction.
The episode airs tonight at 9/8c on ABC if you want to check out Millarker's debut.
This article was originally published on