77 Modern Love Songs You'll Swoon Over — And Play On Repeat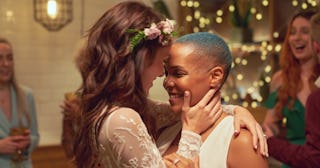 Kelvin Murray/Getty Images
True story: Sometimes even musicians don't have "a song" with their significant other. And that's OK. Really. But there's no denying that sometimes a song can say things better than you can. There's no escaping the emotional rollercoaster music can send you riding. Whether you're picking a first dance song for your wedding or simply putting together a meaningful playlist for your inaugural road trip as a couple, choosing the right music sets the tone for everything that follows. And, while "Brown Eyed Girl" might have been the perfect song for your dad to play for your brown-eyed mama, it may not work for you. You're here because you want something new and fresh. You're looking for modern love songs that feel a little less played out than that Tim McGraw and Faith Hill ballad that streamed on a loop at every school dance back in the day.
Alas, spending too much time on the radio might lead you to believe that there aren't very many modern love songs. Every other tune is about break-ups. Between the break-up songs? Hook-up songs. Even if you and your partner have a deep or wild physical connection, you may not be comfortable blasting Doja Cat. ("I feel like f*cking something" may not be the lyrical sentiment you want for your first dance.)
But there are actually a ton of truly romantic songs on the radio right now. No matter what your love story aesthetic is or what kind of music you listen to, there's a modern love song that will fit the bill. These are our absolute favorites, all of which came out in the last decade-ish. We tried to stay within the last five years. But, well, we're sentimental and felt the need to include some "older" tracks. Either way, all of these came out after the average middle schooler was born.
Modern Slow-Dance Love Songs
1. "Lover" — Taylor Swift
This song has wedding vows basically written into it. It's so obviously a wedding song that, upon its release, fans began to speculate that T-Swizzle had already married her current boo. It's sweet, slow, and has a youthful quality to it that we simply love. It's also a lot slower than the rest which makes it perfect for people who can't actually dance.
2. "Work Song" — Hozier
Yep, we're throwing it back to 2014 for this one. It's worth it, y'all. Don't we all ache for the kind of love that not even time can stop? We'll just let the lyrics do the talking: "When my time comes around/lay me gently in the cold dark earth/No grave can hold my body down/I'll crawl home to her." Damn.
3. "Beyond" — Leon Bridges
It's our firm belief that anyone could fall in love listening to Leon Bridges. This song, in particular, perfectly captures all those heady stream-of-consciousness feelings you have when you're head over heels for someone.
4. "Never Gonna Say Goodbye" — Dawes
One of the most beautiful things about love is the fact that it opens you up and teaches you how to be vulnerable with someone while still feeling safe. That's the kind of feeling you never want to walk away from, and Dawes nails it in this sweet song.
5. "Perfect" — Ed Sheeran
I mean, obviously, right? We couldn't very well have a list of modern love songs without including this Ed Sheeran ballad. Is it probably one of the most popular wedding songs of the last five years? Yes. Is it also still 100 percent worthy of playing at yours? Also yes.
More Modern Slow-Dance Love Songs
"Leave the Door Open" — Bruno Mars, Anderson .Paak, Silk Sonic
"Earned It" — The Weeknd
"By Your Side" — Sade
"Laundry Room" — The Avett Brothers
"Light My Love" — Greta Van Fleet
"You Are the Best Thing" — Ray LaMontagne
"If It's the Beaches" — The Avett Brothers
"Honeybee" — The Head and the Heart
"Touching Heaven" — Johnnyswim
"Song to the Siren" — Garrett Hedlund, Julia Stone, George Mason
"I Won't Give Up" — Jason Mraz
"Marry Me" — Train
"Te Amo" — Trevor Hall
"The One You Love" — Passenger, Kate Miller Heidke
"Love Like This" — Kodaline
"If I Ain't Got You" — James Bay
"Real Love Baby" — Father John Misty
"Lover" — Kazi Jay
"Love Someone" — Lukas Graham
"1+1" — Beyonce
Modern Upbeat Love Songs
1. "Don't Leave Me Alone" — David Guetta, Anne-Marie
Honestly, this is one of our favorite love songs to come out in the last five years — uptempo or otherwise. Not many people can nail genuinely romantic lyrics with the kind of beat that makes you want to dance around the living room but, hey, most people aren't David Guetta and Anne-Marie.
2. "Skate" — Bruno Mars, Anderson .Paak, Silk Sonic
Did you know that quad skates are making a comeback? They totally are! Recently, there was even a pop-up roller rink in the middle of a Los Angeles park, complete with a DJ. This song was most likely played at least once an hour… we hope.
3. "Sunflower" — Post Malone, Swae Lee
This bop came from the Spider-Man: Into the Spider-Verse soundtrack and blew up on the radio. Can you think of a better way to have your loved one refer to you than by calling you a sunflower? We think not.
4. "What a Man Gotta Do" — Jonas Brothers
Hate all you want, but this tune is fun and upbeat — and super sweet and romantic. The "new" JoBros are older and more mature and their music is *chef's kiss.*
5. "Senorita" — Camila Cabello, Shawn Mendes
We'll say it: These two made up our favorite celebrity couple. There was absolutely no way we weren't going to root for Cabello after Fifth Harmony did her like they did. Add in her sexy AF ex and we're hooooooooked. If you want to practice some sexy, sultry dance moves for that first dance, "Senorita" is your soundtrack.
6. "Boo'd Up" — Ella Mai
This song is about the highs and fun of finding your person, or should we say, boo. "Boo'd Up" is super catchy and will be the tune of your heart for several weeks. It was one of Ella Mai's first hits and has become a classic favorite when describing that special someone. But even if you don't have a boo per se, it's still a cute, feel-good song.
More Modern Upbeat Love Songs
"Stay" — The Kid LAROI, Justin Bieber
"Girls Like You" — Maroon 5 ft. Cardi B
"Peaches" — Justin Bieber ft. Daniel Caesar, Giveo
"Sucker" — Jonas Brothers
"There's Nothing Holdin' Me Back" — Shawn Mendes
"The Way" — Ariana Grande ft. Mac Miller
"Meant to Be" — Bebe Rexha ft. Florida Georgia Line
"Adore You" — Harry Styles
"End Game" — Taylor Swift, Ed Sheeran
"Hey Ho" — The Lumineers
"Riptide" — Vance Joy
"Meet Me At Our Spot" — Willow, The Anxiety
"Love On Top" — Beyonce
"Love Me Like You Do" — Ellie Goulding
"Main Muscle" — Ramblr
"You + I" — Young The Giant
"Latch" — Disclosure ft. Sam Smith
"Sweater Weather" — The Neighbourhood
"Stuck On You" — Meiko
"I Dare You" — The xx
"Home Is Wherever I'm With You" — Edward Sharpe And The Magnetic Zeros
"Dust To Dust" — The Civil Wars
"Shiver Shiver" — Walk The Moon
"Time Spent In Los Angeles" — Dawes
Modern Country Love Songs
1. "Fancy" — Walker Hayes
You already know the dance, right? So, why not go ahead and acknowledge your middle-class fancy lifestyle and your TikTok obsession all at once? And, seriously, we can't think of anything cuter than two straws in our Oreo shake.
2. "In Case You Didn't Know" — Brett Young
Everything about this is just super classic country at its finest. Except it's new and a lot less likely to be played out during wedding season.
3. "Tennessee Whiskey" — Chris Stapleton
Chris Stapleton could make anyone swoon. He's got a solid relationship and you can tell in all the earthy, romantic songs he puts out. "Tennessee Whiskey" won't be the only Stapleton song on our list.
4. "Better Together" — Luke Combs
Luke Combs just got married and, honestly, it hurt our hearts a little. He's written a ton of excellent break-up songs (like "Beer Never Broke My Heart"), and we wanted to help him heal. This song was supposedly written about his wife and we get it. It's freaking perfect.
5. "Heaven" — Kane Brown
Kane Brown and his wife couldn't be more adorable if they tried. Every single one of his love songs has got to be about her because we just can't imagine him writing a song about anyone else. And that deep voice! *Swoon* Steal this for yourself. We won't judge.
6. "Starting Over" — Chris Stapleton
Told ya. This song is so sweet it makes our teeth hurt. While it's great for anyone who has had their hearts broken before, it's especially perfect for a couple of people who have possibly been married or in long, long-term relationships before finding their new forever.
7. "Look What God Gave Her" — Thomas Rhett
Want something fun, bopping, and full of that kind of obsession you long for from your dude? Thomas Rhett nailed it with this one. We all want someone to sing about us like he sings about his gal in this tune.
More Modern Country Love Songs
"This Is It" — Scotty McCreery
"Speechless" — Dan + Shay
"H.O.L.Y." — Florida Georgia Line
"Big, Big Plans" — Chris Lane
"Beautiful Crazy" — Luke Combs
"The Good Ones" — Gabby Barrett
"Best Shot" — Jimmie Allen
"Body Like a Back Road" — Sam Hunt
"Meanwhile, Back At Mama's" — Tim McGraw ft. Faith Hill
"How Dare You Love" — Miranda Lambert
"Woman Like You" — Lee Brice"
"10,000 Hours" — Dan + Shay, Justin Bieber
"Dirt On My Boots" — Jon Pardi
"Nobody But You" — Blake Shelton, Gwen Stefani
"The Bones" — Maren Morris
This article was originally published on