Molly Tibbetts' Father Slams Those Using Her Death To Promote 'Racist Views'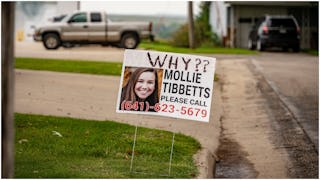 Image via The Washington Post/Getty
Mollie Tibbetts' father penned a letter addressing everyone using his daughter's death for their political means
On July 18th, Mollie Tibbetts went missing after going for a jog in her hometown of Brooklyn, Iowa. It was later discovered that the 20-year-old had been murdered by a Mexican man who may have been residing in the United States illegally. Some Republicans and members of the Trump administration have been using her tragic death to advocate for building a wall between Mexico and the United States.
Tibbetts' dad Rob fought back and wrote a scathing op-ed demanding that his daughter not be used as a "pawn" in any politician's racist rhetoric.
According to prosecutors, Tibbetts was abducted during her jog, killed, and then left in a corn field. A preliminary report from her autopsy showed that her death was a "homicide resulting from multiple sharp force injuries."
Donald Trump decided to use her murder as another push for his wall. "We need our immigration laws changed. We need our border walls changed," he said in a video he posted to Twitter. "We need Republicans to do it because Democrats aren't going to do it. This is one instance of many. We have tremendous crime trying to come through the borders."
He was joined by Donald Trump Jr., who penned an op-ed in the Des Moines Register pushing for stricter immigration laws. "Mollie was murdered by an illegal alien and her murder would never have happened if we policed our southern border properly," Trump Jr. wrote.
Rob Tibbetts had some important thoughts about that.
"At the outset, politicians and pundits used Mollie's death to promote various political agendas," he began in his op-ed for The Des Moines Register. "We appealed to them and they graciously stopped. For that, we are grateful."
Some, like Don Jr., didn't listen.
"They have instead chosen to callously distort and corrupt Mollie's tragic death to advance a cause she vehemently opposed," Tibbetts wrote. "I encourage the debate on immigration; there is great merit in its reasonable outcome. But do not appropriate Mollie's soul in advancing views she believed were profoundly racist."
Tibbetts went on to say that Mollie is not somebody's victim. Nor is she a pawn for debate. He asked that people show some "decency" and allow the family to grieve with dignity.
He then powerfully tore down the racist ideas lurking not-so-subtly behind the Trump administration's stance on immigration. "The person who is accused of taking Mollie's life is no more a reflection of the Hispanic community as white supremacists are of all white people," Tibbetts wrote. "To suggest otherwise is a lie."
He offered an apology to the Hispanic community for the way that some politicians have attempted to demonize them. He told them that he "treasures" the contributions they've given to America. He said that his family stands with them.
"Let's listen, not shout. Let's build bridges, not walls. Let's celebrate our diversity rather than argue over our differences," Tibbetts wrote. "I can tell you, when you've lost your best friend, differences are petty and meaningless."