Mom's Heartbreaking Post Begs Other Parents To Talk About 'Differences'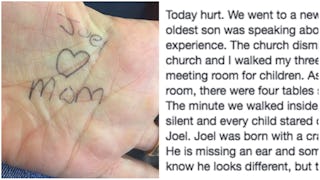 Mom's heartbreaking post is why we need to talk to our kids about differences
A kid staring, pointing, or whispering when confronted with a human that looks different than them may seem innocent enough. Harmless even. But the reality is that it hurts, deeply.
"Today hurt," Stacey Gagnon, a nurse living in Arizona and mother to six children, four of whom are adopted with special needs, writes in an emotional Facebook post. She explains that she brought her 9-year-old son Joel to a new church over the weekend and as they entered the kid room, a hush fell over the room with stares and pointing.
"I know he looks different, but today hurt," she writes. "I stood at the door and watched every child look with eyes wide and mouths open at my child."
Joel was born with a craniofacial impairment and is missing an ear. And even though she knows he looks different, and he knows too, that doesn't mean it stops the pain.
"I stepped in and was about to address the entire class about differences; but then I stopped. I stopped and looked to the back of the room where my son had fled to hide. He had buried his head in his arms because you cannot hide in plain sight. My heart sank and the room remained silent as I walked back to Joel."
In the post she explains that she asked Joel if he wanted to leave and when he said 'yes' he ran out of the room. During the church service, while Gagnon held her son, he drew "Joel loves Mom" on her palm.
"Tears welled in my throat. My beautiful and loving son deserves so much more than stares and pointing," she writes.
She admits that her first reaction was not sadness, but anger, and honestly who could blame her. "I wish I could say it doesn't make me angry because they are kids. But my first reaction is mom anger and I always remind myself they are children and my son looks different," Gagnon tells Scary Mommy.
Additionally, she touches on something very universal in parenting. Kids grow, and as they develop many will reach an age where you can longer hide certain things from them. They are very attuned to their environment for better, or worse.
"It struck me that my child is now nine and I can't always shield him," she says.
Gagnon explains that she'd normally just step right in and take the role of teacher and try to educate the kids, but not that day. She was understandably too busy comforting her son.
Gagnon and her husband both have education degrees and have worked as teachers for many years. "Children stare, but that doesn't mean that it's okay. Teaching empathy is not a curriculum; it's a way of life," she tells HuffPost. Furthermore, she believes that being indifferent and staring, is just as harmful as bullying.
"If I am watching another child being bullied or teased, I'm part of the problem. If I'm choosing to let someone sit alone every day at lunch, I'm part of the problem. There are no such things as innocent bystanders when the damage being done is so emotionally severe," she says.
The couple also has one child with spina bifida who uses a wheelchair, another one suffered a traumatic brain injury, and another has a feeding tube and other needs. They're also in the process of adopting another child who is 2 years old and has limb differences.
So she has a big mommy wish for other parents out there: teach your kids about differences.
"Teach your children that many people look different. Show them pictures of people that look different. And then explain that it is not okay to stare at someone that looks different, it's not okay to point."
She suggests you could even use this post as a tool with your kid and a catalyst for conversation.
"Teach them that my boy is the same on the inside as your child is. He loves Dodge Ram trucks, and Minecraft, and digging in the dirt. He loves ketchup, but does not love broccoli," Gagnon writes. "And mostly, he does not like people staring or pointing out that he looks different. I don't think he needs this pointed out, it's something he lives with everyday."
She says she's not angry and doesn't think the kids who were staring and pointing are mean, she simply thinks no one ever taught them about differences. About embracing human bodies of all colors, shapes, sizes, abilities, and mobilities. Additionally, she reminds us that teaching our kids is a choice. It's an action.
"Show them pictures of people with different colored skin, different eyes, different abilities to talk, walkers to walk, wheelchairs to roll. Show them children with no hair, without an ear, without an arm. Take a moment and share all kinds of different," she urges in the post.
"Now teach your child that a beautiful person is found with the heart; not the eyes."
This article was originally published on