These Adaptable Shoes Are A Great Option For Kids With Special Needs
by Cassandra Stone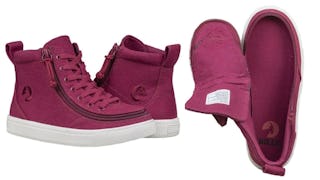 Image via BillyFootwear.com
These are the perfect shoes for kids in the adaptive community
While more retailers are offering a thorough selection of adaptable clothing, there aren't as many options for adaptable shoes. One mom's Facebook post about footwear she found for her daughter, who has special needs, has gone viral. Billy's Footwear offers a "universal design" for all of their shoe styles, and the way they work is extremely cool.
RELATED: 11 Ridiculously Cozy, Fuzzy Slippers— Our Favorite WFH Shoes
Nicole Goodwin-Hubert, mom to a daughter with special needs, shared a post about finding a pair of Billy's Footwear shoes that work perfectly for her daughter, and it quickly went viral.
"Special needs moms: I'm so excited about these shoes I just found Laura at Nordstrom," she writes. "They are 'Billy' brand. Where have these been all my life?! Unbelievably easy to get on over braces! She got the lavender and the gray high tops. So cute too!"
Billy's Footwear incorporates zippers that go along the side of all of their shoes, zipping around the toe and allowing the upper part of each shoe to fold over completely.
This allows the person wearing them to place his or her foot directly into the bed of the shoe, unobstructed. Once the foot is in, the shoe can be zipped with the zipper pull and voilà! The shoe is on without any struggle.
The footwear company, founded by Darin Donaldson and Billy Price after Price became paralyzed from a serious fall, seeks to make shoes to help the adaptive community. Their mission is to "create mainstream shoes that are functional, fashionable, and inclusive for everyone."
There are a ton of cute options to choose from: hi-tops, low-tops, laces, no laces. Whatever your child's personality, there's a shoe to match. Which is honestly so cool — having adaptive shoes shouldn't mean sacrificing fashion and fun for functionality.
You can buy BILLY footwear on their site or Zappos, Nordstrom, and Kids Foot Locker. Their site makes it clear they hope to make kids happy. "Everybody is unique and we all want to express ourselves and feel confident."
This article was originally published on