Mom Blames Forward-Facing Car Seat For Daughter's Severe Injuries In Crash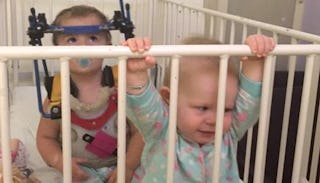 Mom warns parents to keep car seats rear-facing after daughter is severely injured in crash
For a long time, parents were advised to turn car seats around as early as a child's first birthday. Now, many experts advise waiting as long as possible, and one mom is urging other parents to heed their warnings after she says her daughter sustained dramatic injuries in a recent accident because her car seat was forward-facing.
Angela Brown is an Australian mom of two who writes on Facebook that she was driving home from a dentist appointment when she lost control of her vehicle and slammed into a tree. The mom was traveling about 62 miles per hour and hit the tree head on. As she describes it, "The impact caused our car to flip forward over its bonnet and onto its roof. At the same time the large tree snapped and landed on top of the car trapping us in it."
Brown's two children, whom she calls "Miss 1" and "Miss 2" in her post, were sitting in the backseat in their car seats, but there was one difference between the two that the mom says is crucial: Miss One's car seat was rear-facing, and her sister was facing forward. As a result, Brown says her rear-facing daughter walked away from the accident completely unscathed. Her other child, who is only two years old, had to be airlifted to a hospital, where they found out she had broken vertebrae in two places.
"Me and Miss 2 were picked up by Careflight from the crash sight and flown to Westmead, where our nightmare just got worse," writes Brown. "They had discovered she had broken her c2 [and] c3 [vertebrae] and tore all her ligaments in her c1. She was one of the youngest to be fitted with a Halo Brace, and the doctor told us that most children with her injury don't normally make it."
Their accident happened in February, and Brown says her daughter is still in the hospital. "So as you can see two children in the same car crash restrained properly one with life threatening injuries and the other with none [sic]," she writes. "So far we have been treating her injury for 3 mths with no idea of when she will be fully recovered."
Currently, the American Academy of Pediatrics recommends rear-facing kids until at least age two, and the National Highway Traffic Safety Administration says to keep them turned around until they "reach the top height or weight limit allowed by your car seat's manufacturer." These days, many seats on the market can accommodate rear-facing kids up to age three and even four. Brown hopes her story will be a cautionary tale that encourages parents to make use of those seats and keep their kids turned around.
"I was always unsure about turning my babies around," she says, "but after our crash and the hard evidence we are presented with I will forever rearward face my babies as long as I possibly can. Don't make the same mistake as I did. It could cost you your babies life. [sic]"
This article was originally published on