These Siblings Joyously Reuniting After School Will Give You Feels
by Julie Scagell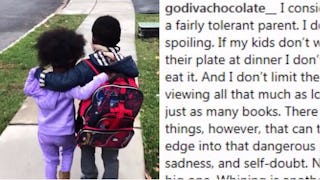 Image via Instagram/Godiva Chocolate
This mom was able to perfectly capture what siblinghood really means
Sibling bonds are nothing short of amazing. Of course they all fight, which makes when they actually get along even more sweet. One mother of three captured the most perfect moment when her son got off the school bus one day, running into the arms of his eagerly awaiting little sister, proving just how exceptional the relationship really can be.
Verlonda Jackson captured the beautiful moment when her son, 5-year-old, Tariq, gets off the school bus, and shared it on Instagram. His 3-year-old sister, Ava, was ready and waiting for her big brother to just get home already. The result is a video that will make you want to lock your kids in a room together until they understand just how lucky they are to have each other.
"I consider myself to be a fairly tolerant parent," Jackson wrote. "If my kids don't want veggies on their plate at dinner I don't force them to eat it. And I don't limit their television viewing all that much as long as they read just as many books. There are a handful of things, however, that can tip me over the edge into that dangerous place of rage, sadness, and self-doubt. Nothing frustrates me more than when my kids fight with each other."
Jackson told ABC News she originally captured the moment to show her husband how the two were getting along since they used to frequently bicker. But since Tariq started kindergarten, they realized they liked spending time together more than they thought. "So I pulled out my phone to show my husband, 'Look, we're doing something right," she explained. "It was such a pure moment."
Jackson's kids disagreements are not uncommon. She said they "fight over whose turn it is with the iPad, who has more time with the iPad, and who is better at whatever game they are currently playing on the iPad. They fight over who got the bigger piece of cake, more frosting, the better plate." And of course, they "call each other names and dole out insults like 'you're a butt' and 'no YOU'RE a butt.'"
So glad we aren't the only ones going through this drama. ALL parents can relate to The Sibling Struggles.
The mom of three said she, as with most parents, often wondered what she was doing wrong when sibling rivalry flared up. When, "two of the people I love the most don't seem to like each other at times." It can be infuriating. Sometimes, we just want to scream at them how lucky they should feel to have one another. But, it is a completely normal and natural part of development and a first chance to really learn how to interact with another human being.
But sometimes sibling relationships can be magical. "Every afternoon at 4:04pm when my son gets off the school bus from kindergarten, this happens…….they greet each other with hugs, kisses, and walk home arm and arm saying things like, "Your my favorite person." "Thanks. Your my favorite person, too." As a parent that's the best I can hope for," Jackson shared.
Jackson finished her post by saying the best she can hope for is for her kids to forgive and be forgiving – and to sometimes recognize just how important family can be. Her hope, like many, is "that they will learn to be siblings, maybe even favorites."
This article was originally published on